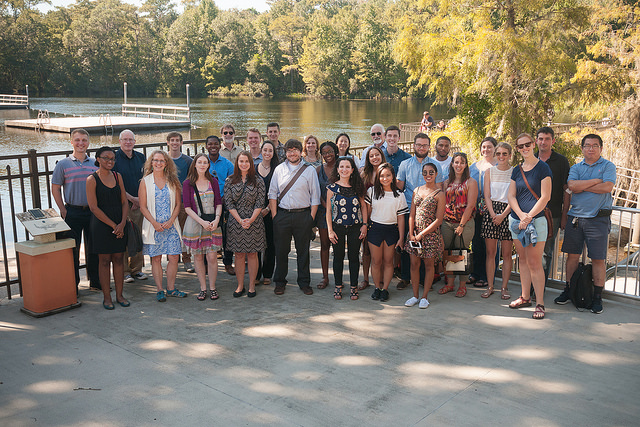 ---
Twitter
Postdoctoral Training Opportunity - Now Hiring
Postdoctoral Scholars select a mentor from our team of faculty trainers and are encouraged to directly contact one or a number of trainers for employment opportunities and specific application procedures.  Scholars participate in semester-long rotating series of reading / practicum group with the trainers, annual special lecture series in the chemical senses, conference travel presentation of their research, and professional development activities with the FSU postdoctoral association.  Scholars are expected to develop an IDP with their selected mentor, and are coached in grant writing exercises to apply for extramural awards and fellowships.  Appointments are provided access to health insurance benefits, retirement option plans, seminole savings program, and an annual budget up to $7,200 for training-related expenses.  Salary is commensurate with level of experience as set by NIH institutional training grant guidelines.
We have recently hired a new postdoctoral trainee for our 2016 - 2018 training opportunity.  We are currently hiring for a new trainee to commence their appointment prior to June 1, 2018 for a two-year opportunity.
Please see here for a list of faculty preceptors and potential research advisors for the June 1, 2018 opportunity
Hiring Requirements -
PhD in Biology, Psychology, Chemistry, Physics, Neuroscience, or related discipline
On-site or skype interview with the trainers
US Citizenship
Demonstrated publication and presentation accomplishment
Preference Given -
Candidates who are recent doctoral graduates
Candidates with past experience and future career interest as independent researchers in the chemosensory discipline
Strong scholastic aptitude
Highly motivated to join an interactive training program in the neurosciences
For questions concerning the Chemosensory Training Grant Program and its opportunities, please contact either Dr. Michael Meredith or Debra Ann Fadool.
---
Multiple Job Openings - Tenure-track Faculty      
In continued support of neuroscience research at Florida State University, we are excited to announce FOUR tenure-track faculty positions at the ASSISTANT PROFESSOR level in 1) Chemical Senses, 2) Neurophysiology/Optogenetics, 3) Brain Dysfunction, and 4) Neuropharmacology.  For the position in Chemical Senses, we are seeking new colleagues exploring olfaction, taste, and internal chemoreception to become graduate and postdoctoral mentors on our long-standing NIH Chemosensory Training Grant.  We are seeking individuals with expertise in chemosensory science that could complement our current strengths in the regulation of olfactory bulb excitability (Trombley), olfactory neuromodulation and impact of obesity (Fadool), neuroendocrine control of taste and ingestive behavior (Eckel), conditioned taste aversion/learning and memory (Houpt), sensory cortical encoding of threat and anxiety (Li), and the neural basis of gustation (Spector).  Florida State is home to a world class Instrumentation and Engineering Shop for custom design recording/monitoring equipment, the National High Field Magnetic Laboratory, the Center for Personalized Medicine, and a variety of Imaging, Molecular, Analytical, Bioinformatics, Spectroscopy, and Histology core facilities to support faculty across our interdepartmental program.   Participation in chemosensory rotational experiences, retreats, and special professional development activities enrich our trainees and this individual and their academic members would be expected to be welcomed as part of this established training environment.  For inquiries or questions, please feel free to contact, Debra Ann Fadool, Director of the Chemical Senses Training Program.
Click here for details on how to apply (review of applications will begin on November 1, 2017)
---
History      
Florida State University remains a rich training ground for postdoctoral scholars in the Chemosensory Sciences, initiating from pioneers in this discipline that built this scientific strength upon joining the university.   Professor Lloyd Beidler was called "the father of taste physiology",  coming to FSU in 1950, just as the university was making the transition to status as a major research institution, and his influence was strongly felt in the formation of the Department of Biological Science in 1956 from a collection of small teaching departments and the university's transformation into a major force in neuroscience research.  Professor Pasquale Graziadei was the first to propose in 1966, then demonstrate, that olfactory receptor neurons were continually generated in vivo – from the population of globose basal cells. He showed that olfactory neuron axons were critical in inducing the formation of their target, the olfactory bulb, during normal development.   Professor Michael Meredith joined FSU in 1981, and has been instrumental in guiding the field in functionally mapping brain regions responsible for socially relevant and non-relevant stimuli and exploring the effect of reproductive experience on chemosensory transmission.  Professors Meredith and Mark Berkley formally originated our Program in Neuroscience in 1991, and Meredith launched a successful training of predoctoral students and postdoctoral scholars by securing a training grant from the National Institutes of Health at the NIDCD in 1995.  After twenty years directing the training grant program, Professor Meredith serves as the co-director to team with Professor Debra Ann Fadool, the new director of the program. 
---
NIH Chemosensory Training Grant Program Today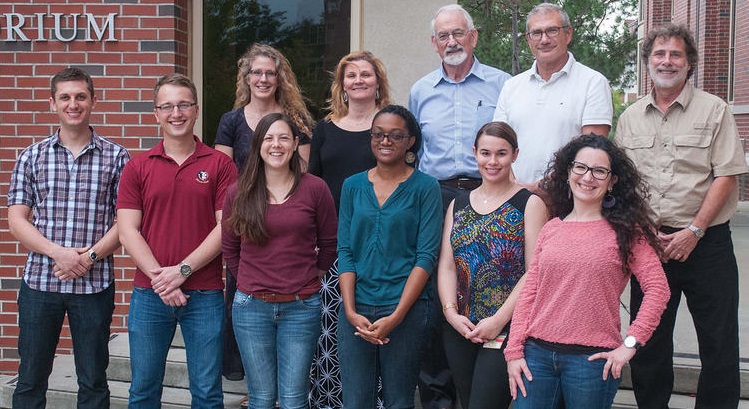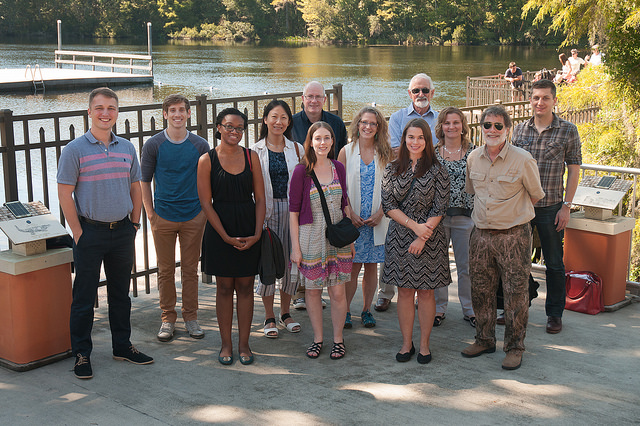 ---
Chemosensory Fall 2016 Retreat at Wakulla Springs
September 30th, noon to 5:30 pm
Retreat Flyer and Schedule - 'Click' here  to download 
Check out photos from the Event - 'Click here' to view
There was a fall Chemosensory Training Grant Retreat at Wakulla Springs State Park at the Dogwood Pavilion.  The event was for our chemosensory trainees (postdoctoral and predoctoral), faculty, postdoctoral scholars, and interested scientists and students.  Everyone with an interest in chemosensory research was welcomed.  We started the afternoon with a picnic lunch on the deck outside the pavilion.  Each of our supported trainees provided 12- minute talks of their progress and future research plans that covered the physiology, behavior, molecular, or psychophysical explorations of olfaction or taste.  Following the short talks, we took a break and enjoyed a one hour river cruise for the mid afternoon.  We returned for a special keynote address by Dr. Robert J. Lee of the University of Pennsylvania  who spoke on "Bitter bodyguards and sweet sentinels:  taste receptors in airway immunity". An excerpt from his research page can be found below.   
"We study the epithelial cells that line the airway.  When airway cell function goes awry, it can lead to diseases such as cystic fibrosis (CF), asthma, chronic rhinosinusitis (CRS), and allergy.  To understand how airway cells sense and respond to pathogens, we combine biochemistry and molecular biology with real-time measurements of airway cell signaling and associated physiological responses, including ciliary beating, calcium signaling, fluid secretion, ion transport, nitric oxide production, and antimicrobial peptide secretion.  Our goal is to better understand the cellular and molecular basis of airway diseases to identify novel molecular targets for new therapies." - Robert Lee
title-inside title-centered
2