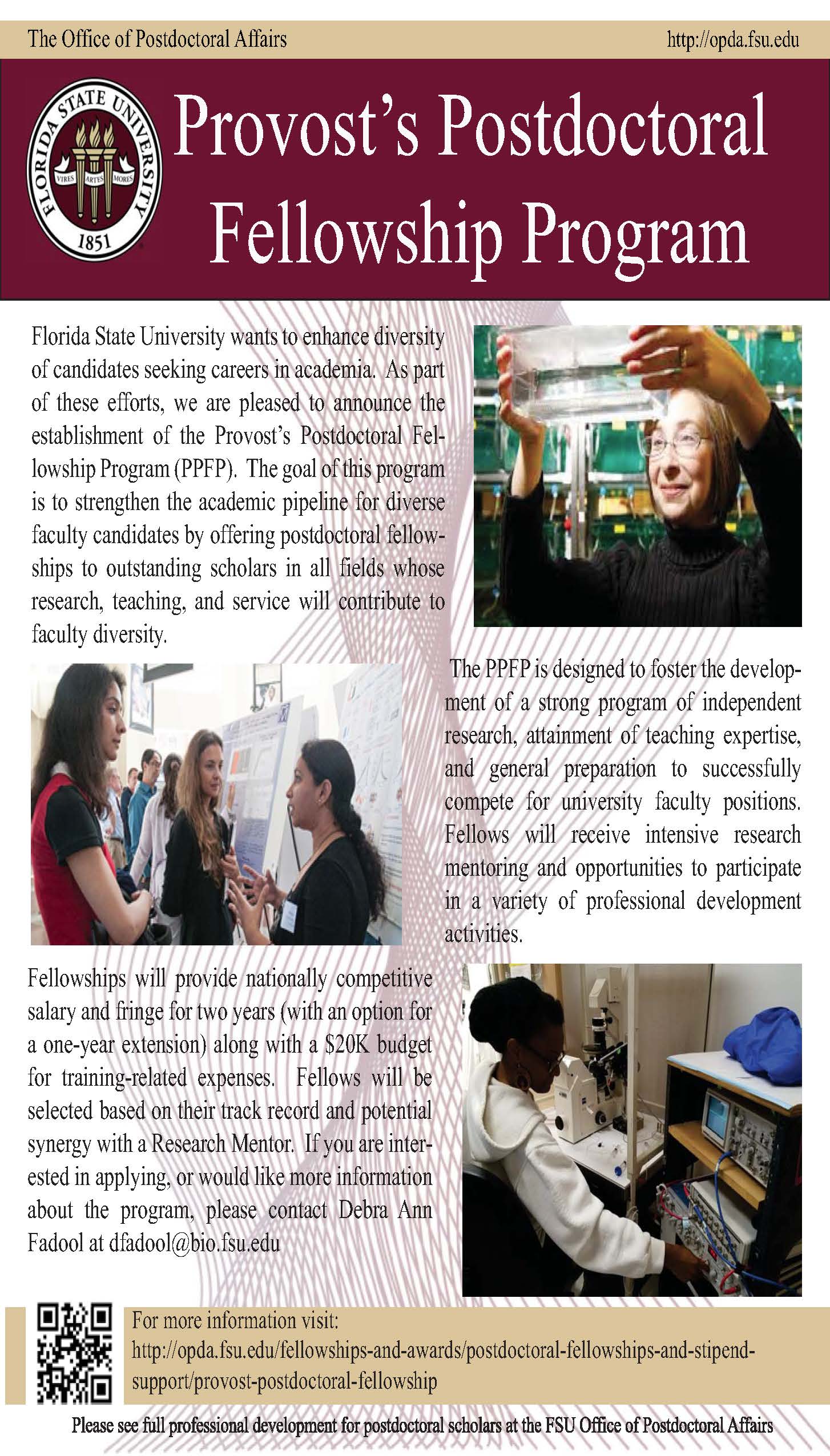 Florida State University is expanding its efforts to recruit, support, and retain a diverse faculty.  One of those efforts is the creation of a
Provost Postdoctoral Fellowship Program (PPFP)
 intended to enhance the pipeline to academic careers that results in a more diverse faculty. 
The Application Portal is now closed for the 2020-2022 training period.  It was necessary for us to close this opportunity earlier than anticipated due to projected state-wide financial constraints to our institution during the pandemic.  Please check back at the end of the year, near December 31, 2021, for updates regarding selections for the 2022-2024 training period.  If you would like to be included on a notification list, kindly email Mr. David Martin and we will be happy to add your contact information.  We encourage new incoming faculty at FSU to send Mr. Martin their profiles in preparation for 2022 season, in the Fall 2021semester so that we can get them posted for the advertisement of your training opportunity. However, a more convenient method is to click here to visit the Qualtrics page and upload your information. 
What is the PPFP? - Down Load Flyer here
Is a postdoctoral fellowship program at FSU that provides specialty training and funding for up to 10 provost fellows.
Funding includes two years of salary support (including health insurance and fringe benefits) plus a small grants award (up to $20,000) for training related expenses.
The PPFP is limited to doctoral recipients who are pursing academic careers.
Successful applicants will have the potential to contribute to diversity in their academic disciplines.
Review of applications begins in the Spring Semester and continues until all positions are filled.
Who is Eligible?
How Do You Apply? 
Identify a mentor from the list of participating faculty  NOTE: you must secure an agreement with a faculty mentor before completing the online application.   Upload a signed duties contract in your online application.
For the online application, upload a CV, a description of your proposed research project (3 pp. limit), and a personal statement describing your career goals and how you would contribute to faculty diversity in your academic discipline (2 pp. limit).
Arrange for three letters of recommendation to be sent on your behalf (1 letter should be from your Ph.D. advisor).   
Letter of nomination by a faculty mentor that describes your research potential and match (this will be prompted during the submission of your application).    
When you have all your materials ready, check back for when the application portal opens.
If you have questions during the submission process, please contact, Debra Fadool, Director of the Office of Postdoctoral Affairs. 
Are you interested in serving as a Faculty Mentor for this new Postdoctoral Fellowship Program?
 If so, please see the following helpful links to register as a faculty mentor!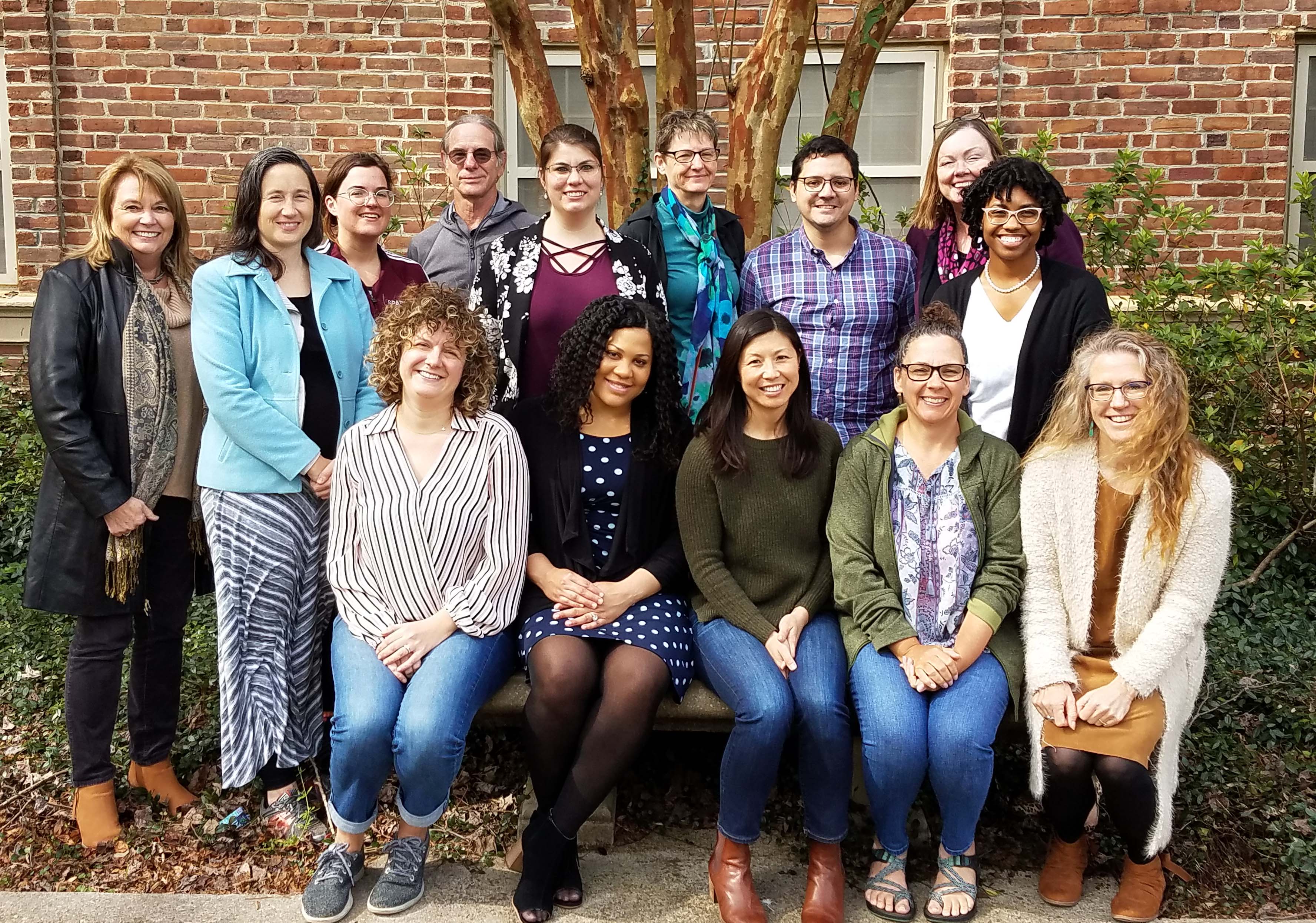 Please welcome our first PPFP fellows who are researching global problems as postdoctoral scholars in the departments of Geography; Earth, Ocean, and Atmospheric Science; Biological Science; Florida Center for Reading; and Chemistry and Biochemistry.
Tropical forest productivity using multi-scale remote sensing (Merrick - Pau team)
 
Measures of grit, conscientiousness, mindset, and anxiety impact on standardized test performance using twin data bases (Holden - Hart team)
 
Carbon cycle and global climate change (Sparrow - Chanton team)
 
Epigenetics of behavioral changes in chorus frogs (Ospina - Moriarty-Lemmon team)
 
Impact of social interactions for variation in clonal Amazon species (Makowicz - Hughes team)
 
Design and synthesis of clofilium analogues as potential agents for human pediatric cancers (Henderson - Sang Team) 
title-inside title-centered
2