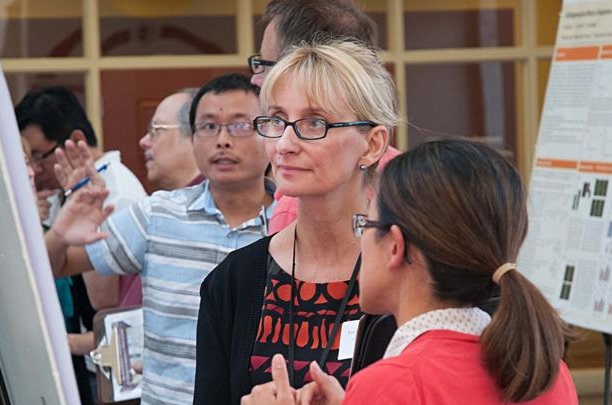 ---
Postdoctoral Fall Symposium, Poster Competition, and Awards Ceremony
FSU College of Medicine Atrium and COM 1306, September 22, 2017, 12:00 PM to 6:00 PM
The 5th Annual Postdoctoral Symposium and Poster Competition will start at the FSU College of Medicine Atrium. This event is in celebration of the National Postdoctoral Awareness Week and is a wonderful opportunity for you to meet your fellow postdoctoral colleagues!
Please join us for a wonderful afternoon of research interactions, a keynote address by Dr. Timothy McClintock of the University of Kentucky ("Creating Opportunities for Others is the Essence of Leadership and Management"), and an interactive LinkedIN workshop by our own Thierry Dubroca on the theme "Management, Leadership, and Networking - Connecting People!". There will be faculty judges for postdoctoral submitted poster presentations in 4 different divisions ($150 award checks to the top presenters) including a People's Choice Award. 
Happy hour will begin at 4 pm at the beginning of the second poster session and awards will be presented at approximately 5:30 pm. During this time, we will be recognizing our 2017 Travel Grant Recipients as well as our Symposium Poster Board Winners! We welcome Postdoctoral Scholars, senior graduate students, fellow lab mates, families, and advisors/mentors of our postdocs.  All categories of attendees (presenters, non-presenters, judges, and speakers) should register to help us prepare food quantities.
DAY OF EVENT LOGISTICS -
Poster boards can be hung starting at 11 am on Friday, push pins will be provided, so you are welcome to come early to get your poster secured and to check in at the atrium. The typical size our boards can accommodate is 4' high x 8'  in width.   If you need a parking pass to park at the College of Medicine, please email Ms. Katrina Williams, our event coordinator. Parking passes will be prioritized for individuals who do not have main campus parking permits, typically those coming from Magnet Laboratory. If you do not have a profile at LinkedIN, you are encouraged to scroll to the bottom of our main OPDA website and click on the right hand box to set up a profile in preparation for the afternoon workshop. You will need to bring a mobile phone with ability to connect to LinkedIN. 
Lunch will be served starting at noon with introductions starting at 12:30 pm with first poster session starting soon after.
Click here to Register for the Event (REGISTRATION DEADLINE EXTENDED DUE TO HURRICANE IRMA through Sept. 20th)
Click here for How to Write a Strong Scientific Abstract (Submission instructions within the registration survey). 
Flyer and Agenda for the Event
---
Biological Science/Neuroscience Postdoctoral Mentoring Workshop & Lunch
Kin Life Science Building, Room 2057, 12:00 - 1:00 PM
Please mark your calendar for the fall 2017 through spring 2018 workshops. This is a special, faculty-led monthly workshop for Postdoctoral Scholars hosted by the Department of Biological Science and the Program in Neuroscience. Although the career focus will be directed to the Life Sciences, all Postdoctoral Scholars and senior Graduate Students are welcome. Sandwiches will be served over the lunch hour during the workshops. Dates are listed below. Please check back for presenters and workshop topics. For questions, please contact Drs. Erminia Fardone or Kay Jones.  No registration required. 
| Date | Presenter | Title |
| --- | --- | --- |
| Monday Oct. 9 | TBA |   |
| Monday Nov. 13 | TBA |   |
| Monday Dec. 11 | TBA |   |
| Tuesday Jan. 16 | TBA |   |
| Monday Feb. 12 | TBA |   |
| Monday Mar. 5 |   | Oral Competition - Starts 10:00 am |
| Monday April 9 | TBA |   |
---
"Welcome" Mini-Orientation Sessions for New Postdoctoral Scholars on Campus
Honors, Scholars & Fellows House, Room 3009
Dates:  October 30, 2017; January 29, 2018.  
If you are a new postdoctoral scholar to the FSU campus, this "Welcome" is a nice brown bag lunch activity that will fit into your busy research schedule.   The design will be limited to strictly a 1 hour session, where you will receive the essentials of getting your research started at FSU and have access to Human Resources and Office of Postdoctoral Affairs Staff.  At this time, you will also be introduced to the Postdoctoral Association (PDA) - your peer network of postdocs on campus.  Attending a "welcome" in your few months of employment at FSU will serve to fulfill your mandatory orientation.  Visuals from the January Welcome can be found in the presentation archive section of the OPDA website.  For more information, contact Debi Fadool, at dfadool@bio.fsu.edu .