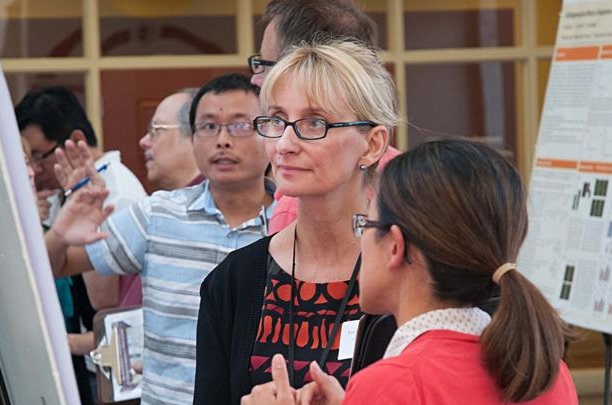 ---
New Postdoctoral Scholar Orientation
Honors, Scholars & Fellows House, Room 4003, Great Hall
Date:  August 16, 8:30 am to 3 pm
Registration:  Click here to register for orientation.  Registration is now open. Download agenda here.
There will be a full orientation required for all new postdoctoral scholars and their mentors that have been on FSU campus for one year or less on August 16th, in the Honors, Scholars, and Fellows building (HSF) beginning at 8:30 am. Important information regarding new postdoctoral policies and regulations will be presented along with an opportunity to fully plan your Individual Development Plan (IDP) with your advisor. Lunch will be provided.  New postdocs will have the opportunity to meet fellow Postdoctoral Scholar Officers of the Postdoctoral Association (PDA).  Copies of the textbook "Making the Right Moves", a helpful text on your career advancement developed by HHMI and the National Academy will be distributed.  Also distributed will be our draft postdoctoral handbook that I am composing this summer and the guidebook "Advancing Postdoc Women" from the National Postdoc Association.
The following information will be presented by directors and coordinators of these topics -
Expectations, Policies, Resources, Research Opportunities Animal and Human Subjects
Individual Development Plan
Funding your Research
Teaching Opportunities and Guidelines
Interfacing with Professional Development at the Graduate School
Blackboard and Omni Software Introduction (Payroll, Reimbursements)
Human Resources (Minimum Salary, Health Insurance, Leave Policy, Retirement, Florida Prepaid College)
Postdoctoral Association (Events, Professional Development, and Networking)
International Scholar VISA and Global Community
Center for Intensive English Studies
---
Additional Documents
---
Writing Specific Aims: A Hands-On Brain Engaged Guide to Making Your Reviewers Like You Workshop!
Workshop Overview
If you have considered applying for an award through the National Institutes of Health, plan to attend this informative and engaging workshop. This will not be discipline specific, but will engage and prepare the attendee to write a clear, focused proposal. 
This interactive workshop will be led by Dr. Richard Nowakoski, Department Chair, Biomedical Sciences.
When: Thursday, July 27, 2017 from 3:00 to 5:00 PM
Where: Chemistry Science Laboratory (CSL 1005) 
Click here for more information, and to register for workshop.
---
Summer 2017 Professional Development Series
The Department of Biomedical Sciences Presents: "Tools of the Trade" - a free career development series for students & postdocs.
Every Friday starting May 26th - August 4th, 1:00 PM - 3:30 PM
FSU College of Medicine, 1115 West Call St. Room 1301
Download flyer here for more information.
---
A Scientific Editor's Tips for Getting Your Paper Published and Finding a Job in Publishing.
Friday, September 1, 2017, 12:00 - 1:00 pm - "Alumni Made Good"
Biological Science (KIN), 2057
Presenter: FSU Alumna Shawnna Buttery, PhD (Scientific Editor, Cell Reports)
Dr. Shawnna Buttery (@yeastgrrl) joined the Cell Reports team as a Scientific Editor in August 2016. She Previously worked for Elsevier's BBA journals. Her training in the laboratory was in cell biology, studying the cytoskelton in worm sperm as a grad student at FSU and in budding yeast as a postdoc at Dana Farbor Cancer Institute. 
---
Biological Science/Neuroscience Postdoctoral Mentoring Workshop & Lunch
Kin Life Science Building, Room 2057, 12:00 - 1:00 PM
Please mark your calendars for the fall 2017 through spring 2018 workshops. This is a special, faculty-led monthly workshops for Postdoctoral Scholars hosted by the Department of Biological Science and the Program in Neuroscience. Although the career focus will be directed to the Life Sciences, all Postdoctoral Scholars and senior Graduate Students are invited to participate.  Sandwiches will be served over the lunch hour during the workshops. Please check back for presenters and workshop topics. For questions, please contact Drs. Erminia Fardone or Kay Jones.  No registration required. 
| Date | Presenter | Title |
| --- | --- | --- |
| Monday Aug. 14 | TBA | Getting the most out of your Annual Evaluation |
| Friday Sept. 1 | Dr. Shawnna Buttery | A scientific editor's tips for getting your paper published and finding  a job in publishing |
| Monday Oct. 9 | TBA |   |
| Monday Nov. 13 | TBA |   |
| Monday Dec. 11 | TBA |   |
| Tuesday Jan. 16 | TBA |   |
| Monday Feb. 12 | TBA |   |
| Monday Mar. 5 |   | Oral Competition - Starts 10:00 am |
| Monday April 9 | TBA |   |
---
Welcome" Mini-Orientation Sessions for New Postdoctoral Scholars on Campus
Honors, Scholars & Fellows House, Room 3009
Dates:  October 30, 2017; January 29, 2018.  
If you are a new postdoctoral scholar to the FSU campus, this "Welcome" is a nice brown bag lunch activity that will fit into your busy research schedule.   The design will be limited to strictly a 1 hour session, where you will receive the essentials of getting your research started at FSU and have access to Human Resources and Office of Postdoctoral Affairs Staff.  At this time, you will also be introduced to the Postdoctoral Association (PDA) - your peer network of postdocs on campus.  Attending a "welcome" in your few months of employment at FSU will serve to fulfill your mandatory orientation.  Visuals from the January Welcome can be found in the presentation archive section of the OPDA website.  For more information, contact Debi Fadool, at dfadool@bio.fsu.edu .