Florida State University held the second annual Postdoctoral Symposium on Friday, September 19th in the College of Medicine Atrium and Auditorium. The event showcases the cutting-edge research of our postdoctoral scholars.
Sir Harry Kroto, a co-recipient of the 1996 Nobel Prize in Chemistry, provided the keynote address, "How to Survive." Donna Decker from the College of Business spoke about professional communication. Three winners were selected. Seven postdocs also received a travel award to assist in their career development. Thank you to our judges, panelists, poster presenters, and staff members who made this event a success.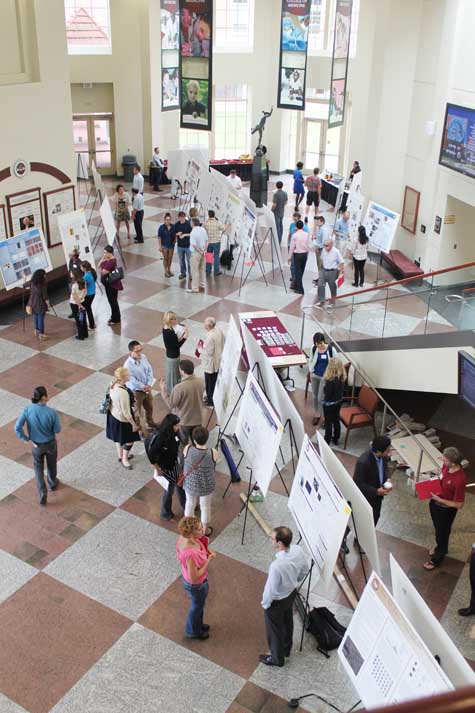 The 2014 Postdoctoral Symposium at the FSU College of Medicine
2014 Postdoc Symposium Poster Presenter Winners
Physical Sciences:
Shengyu Wang (MagLab)
The Highest Static Magnetic Field X-ray Diffractometer
Life Sciences:
Sarah Johnson (Department of Nutrition, Food and Exercise Sciences)
Beneficial Effects of Blueberry Consumption on Blood Pressure and Arterial Stiffness in Postmenopausal Women with Pre- and State 1- Hypertension
Interdisciplinary Sciences:
Pete Morton (Earth Ocean and Atmospheric Science)
Particulate Trace Element Cycling in a Diatom Bloom near Hawaii
Travel Award Recipients:
Huan Chen, Nicolas Choplain, Yan Li, Peter Morton, Nihar Pradham, Juan Carlos Rivera-Mulia, Lindsey Schier, Nicolas Thiebaud
For more pictures, click here.