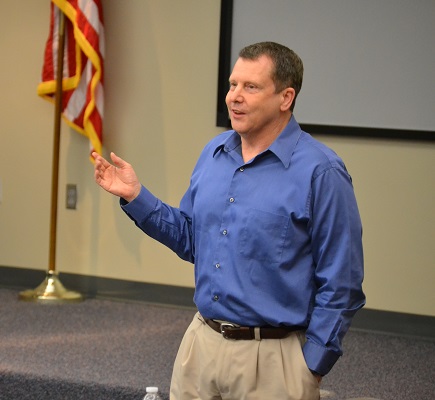 Dr. Brent Edington. Photographer: Samantha Fadool
"Career Paths Beyond Academia"
We would like to thank Mathew Johnson and Komalavalli Thirunavukkuarasu for co-chairing this event sponsored by the PDA, or the postdoctoral governing board at FSU. The idea for the event was generated through increasing competitiveness in the job market and the desire for postdocs to consider translatable skills outside the traditional workplace of the university setting. The following lectures were presented and can be found on the workshop archive. Additional photos from the PDA Spring Event can be viewed by clicking here!
"Strategies and Career Resources for Postdocs" - by Debra Ann Fadool, Director, FSU Office of Postdoctoral Affairs and Janet Lenz, Program Director of Instruction, Research and Evaluation, FSU Career Center.
"Working for a State Government Laboratory" - by Fadi Aldeek and Mark Crosswhite, Environmental Specialist III, Florida Department of Agriculture and Consumer Services.
"Grant Writing Consultancy" - by David Lipten, Grantworks, Your Source for Grant Writing.
"Commercialization and Entrepreneurship" - by Brent Edington, Executive Director, FSU Office of Commercialization.
A Postdoctoral Networking BBQ followed the next day at the FSU Seminole Reservation attended by fellows, alumni, and their families. An afternoon of socializing and water sports were enjoyed.