Spring Semester 3-Parts Grants Workshop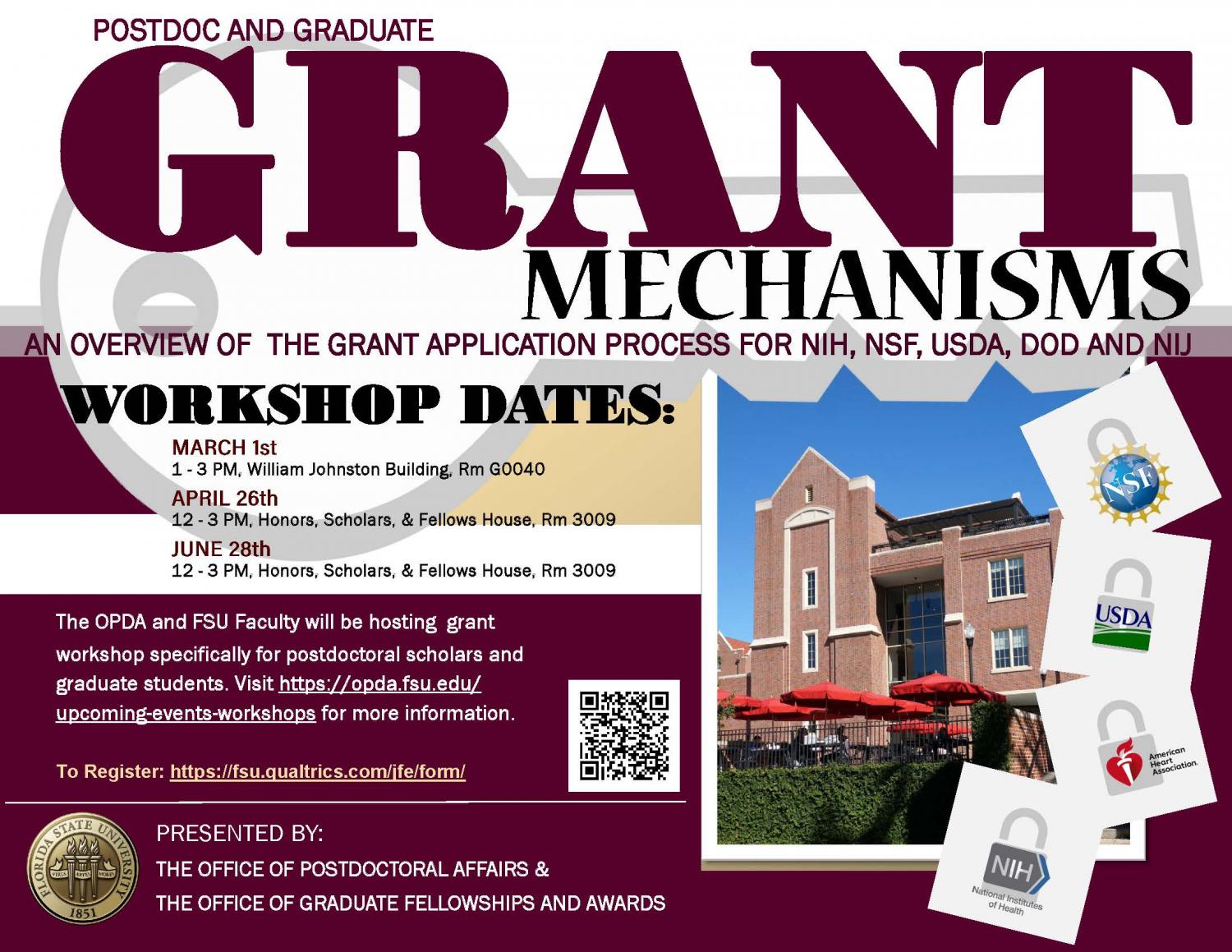 April 26, 2019 12 - 3 pm. Sign up for a time block to have your prepared Specific Aims page critiqued by a panel of experts in your field. This is the heart of every successful grant proposal.
Click here for a helpful document for writing your specific aims.
June 28, 2019 12 - 3 pm. Sign up for a time block to have your full grant proposal critiqued by a mock study section of experts in your field. Then take your reviews, modify your full proposal and submit to your targeted agency to receive your intramural award from FSU. You do not have to be awarded your proposed grant to received the intramural support, but you must complete all three workshop dates and be responsive to the available experts!
---
Biological Science/Neuroscience Postdoctoral Mentoring Workshop & Lunch
Kin life science building room 2057, 12:00 - 1:00 pm
Please mark your calendars for the Fall 2018/Spring 2019 postdoc workshops. This is a special, faculty-led monthly workshop for Postdoctoral Scholars hosted by the Department of Biological Science and the Program in Neuroscience. Although the career focus will be directed to the Life Sciences, all Postdoctoral Scholars and senior Graduate Students are welcome. Sandwiches will be served over the lunch hour during the workshops. Dates, presenters and topics are listed below. For questions, please contact Dr. Kay Jones. No registration required. 
| | | |
| --- | --- | --- |
| Date | Presenter | Title |
| Mon. Sept. 10 | Dr. Peter Fajer, Cell & Molecular Biology Professor & Director of the Institute of Molecular Biophysics | How to make yourself palatable to academic search committees. A view from the other side of the table. |
| Monday, Oct. 8 | Dr. Scott Steppan, Professor of Ecology & Evolution in Biological Science | Interviewing for an academic position |
| Tuesday, Nov. 13 | Dr. Qian Yin, Assistant Professor in Cell & Molecular Biology, In Biological Science | Plan ahead: from K to interview |
| Monday, Dec. 10 | Dr. Scott Burgess, Assistant Professor in Ecology & Evolution, In Biological Science | Thinking like the job you want |
| Monday, Jan. 14 | Dr. Yuan Wang, Assistant Professor, Biomedical Sciences, College of Medicine & Neuroscience Program | Job search in Neuroscience: where to start and how to decide? |
| Monday, Feb. 18 | Dr. Crystal L. Young-Erdos, Assistant Professor of Chemistry, Eckerd College, St. Petersburg, FL | 'Multiple perspectives on the academic job search' |
| Monday, March 11 | Dr. Rob Contreras, Associate Dean, Arts & Sciences | Negotiating Faculty Job Offers |
| Monday, April 8 | TBA | Oral Presentation Day |
---
"Welcome" Mini-Orientation Sessions for New Postdoctoral Scholars on Campus
April 29, 2019, Honors, Scholars & Fellows House, Room 3009, noon (12 pm)
If you are a new postdoctoral scholar to the FSU campus, this "Welcome" is a nice brown bag lunch activity that will fit into your busy research schedule. The design will be limited to strictly a 1 hour session, where you will receive the essentials of getting your research started at FSU and have access to Human Resources and Office of Postdoctoral Affairs Staff. At this time, you will also be introduced to the Postdoctoral Association (PDA) - your peer network of postdocs on campus. Attending a "welcome" in your first few months of employment at FSU will serve to fulfill your mandatory orientation. For more information, contact Debi Fadool, at dfadool@bio.fsu.edu.
Check back for registration link
---
Fall 2019 PIE TA Orientation/Teaching Conference
The annual Fall PIE TA Orientation/Teaching Conference information will be available Summer 2019. (This will be a mandatory training for postdocs who intend to teach)
** Students should email us at pie-info@fsu.edu to request to be enrolled in these online trainings. This event is held Wednesday & Thursday the week prior to the first week of classes each fall, please check back for dates & registration, available in Summer 2019. This conference includes sessions that provide graduate students & postdoc scholars with policy training requirements as stated in the current University-wide TA Standards along with best practices in grading, communicating with students, appreciating student diversity in the classroom, and technology usage. By the end of this training, participants will be able to explain and have procedures in place to address University policy issues related to the Academic Honor Policy, the Family Educational Rights and Privacy Act (FERPA), the Americans with Disabilities Act (ADA), and Discrimination-Sexual Harassment-Retaliation. Participants will also be equipped with strategies to help navigate the use of Canvas features essential to their role as a TA, communicate effectively with students, and provide student feedback. 
Who should attend?
New graduate student & postdoc TAs - graduate student's and postdoc scholars CANNOT hold a TA position UNLESS he or she satisfies the University-wide TA Standards, so be sure to review these standards carefully!
New graduate students and postdoc scholars who do not yet hold a TA assignment, but will likely do so in the future.
Returning graduate students who have never attended PIE or a departmental equivalent, but who may teach in the future are also encouraged to attend
Faculty and staff are also welcome
* Please note: Our priority is to meet the needs of those who will be teaching in the coming semester/year, but if there is room in HCB 101, and the overflow room HCB 102, we should be able to accomodate graduate students and postdocs who do not yet have a TA assignment but want to become certified and develop their credentials for teaching in the future. 
More information will be posted on the PIE website in Summer 2019
title-inside title-centered
2