Fall Symposium & National Postdoc Appreciation Week!! - September 19 - 23, 2022
FALL SYMPOSIUM, Friday, September 23, 2022
Registration is still open for the Appreciation week events, but preregistration for 5 Minute research presenters/competitors practice talks is now closed.  
Registration NOW OPEN (Until September 21) - Master Registration for all events - Grantsmanship Workshop, 5MR Competition, Evening Awards Reception, and Coffee/Tea Pastry Truck.
Zoom Link for Grantsmanship Workshop or 5MR Competition
Join us in the third week of September for the National Postdoc Appreciation Events (#NPAW2022) at Florida State University!
Fall Symposium Agenda - Friday, September 23, 2022 - All Events at KIN Life Science Center
2:30 pm - Grantsmanship Workshop with Dr. Sharon Nicholson, FSU Distinguished Research Professor - KIN 2057
3:45 pm - 5 Minute Research (5MR) Finalist Competition - KIN 1024 Main Auditorium
5:30 pm - Awards and Outdoor Reception - KIN Atrium and Courtyard
Grantsmanship Workshop:  Dr. Sharon Nicholson will be presenting an hour workshop on the ins and outs of good grantsmanship.  She will be sharing her experience writing successful NSF proposals  that will address such questions as -  How did you first start? Did you have a mentor to help you when you wrote your first proposal? What insightful comments did you get throughout your career that helped you improve your writing?  What makes a proposal stand out from others, according to you?  What common mistakes should postdocs/scientists avoid when writing a grant?  What should one focus on/pay attention to when writing a grant to make it competitive?
5 Minute Research Competition Information:  Come out and describe your research in oral format using ANY creative style you like!  This is our 5th annual for the 5MR competition and we have seen powerpoint presentations, videos, live demonstrations, poems formatted like Dr. Seuss, and even Karoke!  The only rule you have is not longer than 5 minutes!!!  Your demonstration is a super way to disseminate your research to an educated lay audience and reach out to the surrounding community.  Ten finalists will be selected from the juried practice rounds - and we will give you insights on how to capture your audience while making it easy to understand and entertain.  Awards will be given for 1st place ($1,000), 2nd place ($750), and People's Choice ($500) - so bring your colleagues to the audience to support you!  
Line up of Postdoctoral FInalist Speakers!
Dr. Shannon Bayliss - "Biodiversity in Song and Science" - Department of Geology (Pau Laboratory)
Dr. Soumik Bhattacharya - "Exotic Shapes in Nuclei" - Physics Department (Tripathy Laboratory)
Dr. Xin Chen - "Quantifying the Effects of Predictor Novelty & Collinearity on Ecological Forecasting Under Climate Change" - Geography Department
Dr. Jayasankar CB - "Monitoring the Evolution of Rainy Season Over Florida" - COAPS (Misra Laboratory)
Dr. Luna Hiron - "What Are Internal Tides?" - COAPS (Chassignet Laboratory)
Dr. Hye Jung Yun - "Parental Warmth and Adolescent Delinquency: A Cross-Cultural Study of the U.S. and South Korea" - Florida Center for Prevention Research 
Dr. Yuxiang Li - "Molecular Insights into Sex-based Drug Addiction" - Biological Science/Program in Neuroscience (Feng Laboratory)
Dr. Mohammad Nooranidoost - "A Mathematical Model for Single Cell Encapsulation" - Mathematics Department (Cogan Laboratory)
Dr. Dinesh Ramesh - "Using Nature to Advance Manufacturing Practices" - Engineering, Magnet Laboratory (Oates Laboratory)
Dr. Dylan Rodgers - "Water and Why it Matters - From the Romans to Today - Classics Department (De Giorgi Research Group)
Dr. Havalend Steinmuller - "Beyond a Global Estimate:  Using Sedimentary and Geomorphic Settings to Refine Estimates of Mangrove Carbon Burial Rates"  - Coastal and Marine Laboratory (Breithaupt Laboratory)
Evening Awards Reception Information:   There will be a social reception for postdocs, family, research colleagues and advisors to recognize the award winners of the poster and 5MR competition, along with our annual professional development/travel awards.  We will also announce our new cohort of Provost Postdoctoral Fellowship Program (PPFP) Scholars.  The reception will be hosted by the President's Office with food and drinks in the open outdoor courtyard of the KIN Life Sciences Building following the 5MR.
Coffee/Tea and Pastry Truck Information:  The OPDA and the PDA are proudly hosting a coffee/tea and pastry truck on the final morning of the Appreciation Week, Tuesday, September 20th, from 1:30 to  3:30 pm.  Postdocs, bring out your advisor and treat each other to a morning good start - on us!  Hope to see you out on Landis Green.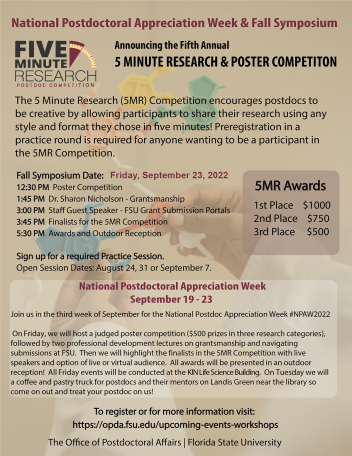 ---
New Postdoc Orientation and Guest Mental Health Advocate Speaker - Friday, August 12, 2022
Required Orientation for New Postdoctoral Scholars
Honors, Scholars, and Fellows (HSF) Building, Nancy Marcus Great Hall 4th Floor
Registration CLOSED
Session 1:  9:00 to 11 am = General Orientation for New Postdocs - ZOOM Link HERE for Session 1
Break for Lunch
Session 2:  12:15 to 1:45 pm = Mentor/Mentee Individual Development Planning (IDP) - ZOOM Link HERE for Session 2 to include mentor/mentee breakout rooms
Special Session (for NEW and CURRENT Postdocs):  2:00 to 3:00 pm = Mental Health and Self Care for all Times but Especially While Training in the Midst of a Pandemic - ZOOM Link HERE for Special Session
This is our annual required orientation for new postdoctoral scholars, that will allow you to get onboarded with your benefits (health insurance, retirement, and state employee perks) while introducing you to the Director of the Office of Postdoctoral Affairs and the Postdoctoral Officers of the Postdoctoral Association.  You will also learn about special opportunities to apply for grants workshops and professional development/travel awards through FSU.  We have two major events each year organized jointly by the OPDA and PDA - so it is also your opportunity to network across campus with your fellow scholars. 
Itinerary 
Session 1:  For all NEW Postdocs
9:00 - 9:10 am - Welcome -  Dean Riley
9:10 - 9:40 am - Introduction to resources of the Office of Postdoctoral Affairs, Grants Workshops, Professional Development, Postdoc Employee Benefits - Debra Fadool
9:40 - 9:50 am - Center for Global Engagement, International Community, Immigration - Michelle Lawson
9:50 - 10:05 am - Program for Instructional Excellence - Caity Kelly
10:05 - 10:30 am - Health Insurance, State Employee Perks - Kelly McLaughlin
10:30 - 10:45 am - Postdoc Retirement Program - Kendrea Atkins
10:45 - 11 am - Postdoctoral Association Vice President - Luna Hiron
Session 2:  For all Postdocs and their Mentors without an IDP
Please register both Postdoc and Faculty Mentor so that communication and materials can be sent to both.  If your faculty mentor is not able to attend, new postdocs should plan to attend and bring back resources to their PI.  It is highly encouraged that both attend this important session.  
12:15 - 12:45 pm - The Individidual Develelopment Plan (IDP) as required by federal funding agencies and customized for FSU - Debra Fadool
12:45 - 1:45 pm - Paired planning by mentors and mentees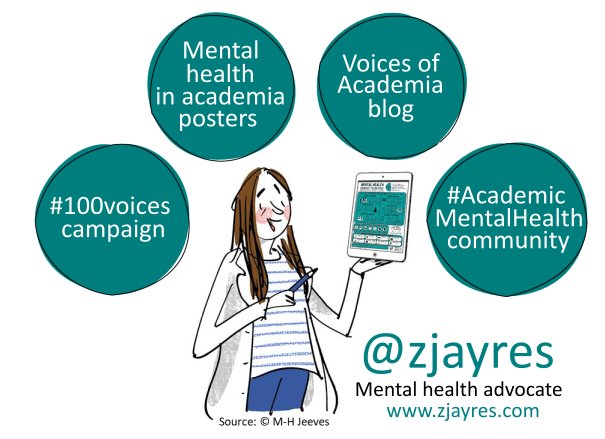 Special Session:  For ALL Postdocs, Interested Senior Graduate Scholars, and Faculty Mentors, 2 pm
Dr. Zoey Ayres will give a 30-40 minute presentation on "Postdoctoral Mental Health: A conversation (I wish I could have) with my younger self".  She will be delivering her lecture by zoom conference from her home in the UK.  Dr. Ayres is an analytical chemist and advocate for mental health.  She is co-founder of @academicvoices, has spoken at the NIH as a health advocate, is a member of the Royal Society, wrote many mental health articles specializing on academia, and her first book is scheduled to be released in August - "Managing your mental health, a survival guide" by Springer Nature.  We are so excited that she will be addressing us during our orientation and you are all welcome to interject questions via a moderator for Dr. Ayres that you can insert online while registering for the event.  Please see many articles, posters, blogs, and other resources that she has made openly available on her website.
---
Spring Event - Friday, May 6, 2022
Planning your Career after your postdoc - academic and non-academic paths
Hybrid and group viewing/participation at the honors, scholars, and Fellows (HSF) building, 1 to 5 pm
followed by reception and dinner
Registration NOW OPEN (until May 1st)
The Office of Postdoctoral Affairs and the Postdoctoral Association (PDA) have joined forces to bring you the Spring Event!  Please see this website designed by the PDA for full Speaker lineup and event agenda.  Dr. Chris Smith from Virginia Tech will lead with a keynote address on how to transition between academic and non-academic positions.  Then our own Dr. Ken Hanson will tell us about his journey on the academic job market (check out his terrific blog!!).  Finally Dr. Tracy Costello, a career coach from the University of South Florida, will address how to transition from academia to non-academic positions.  The afternoon will have two full panels (academic vs. non-academic experts) composed of largely FSU Postdoctoral Scholar Alumni!  There will be good break out groups for focused discussion and networking.  After the event, we will have community engagement with fellow postdocs, advisors, faculty, research mates, and family with a dinner and chance to bring your favorite dessert to share.
For questions regarding the event, please contact Nuria or Luna organizing chairs.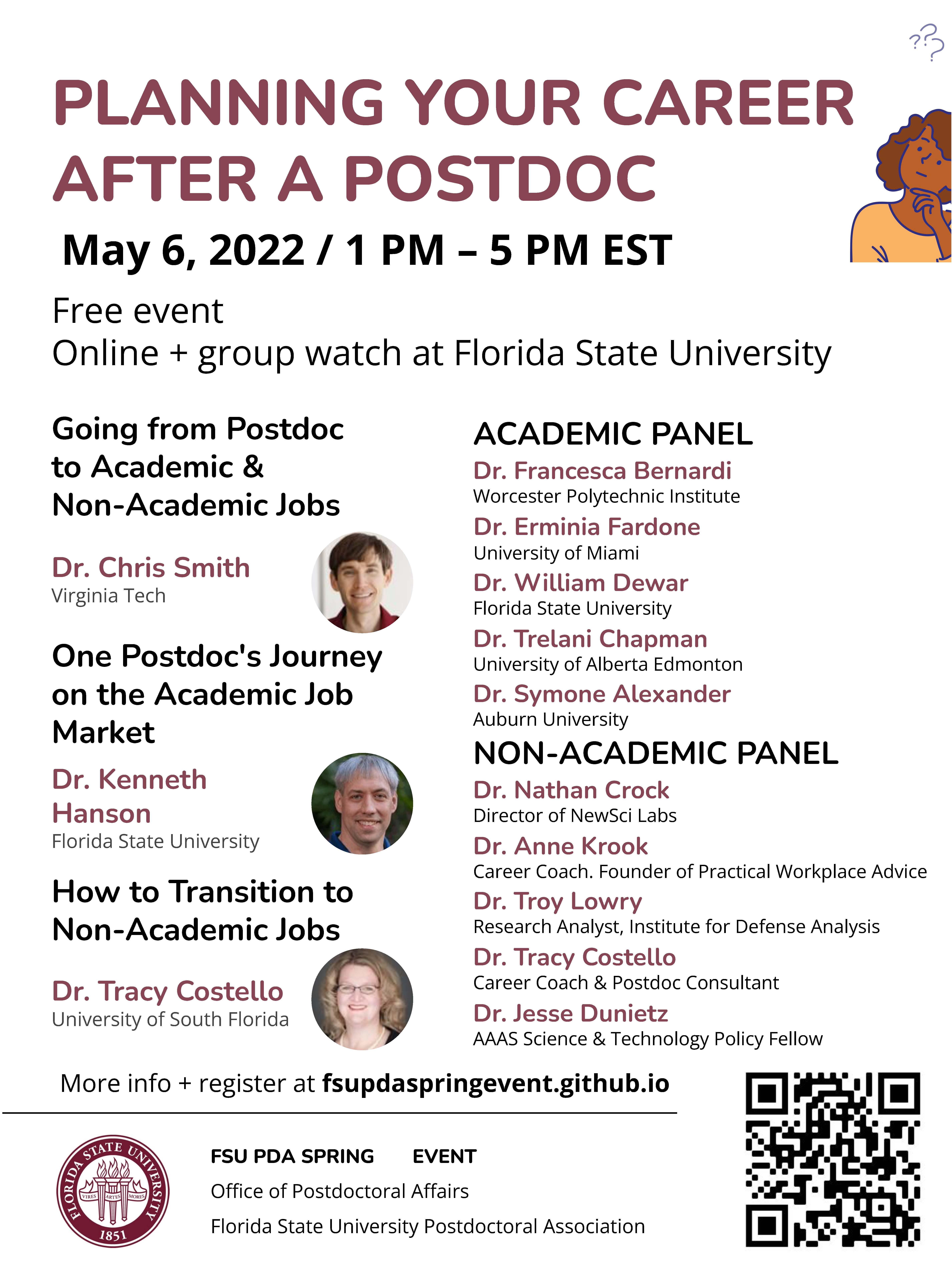 ---
Parental Leave Survey - We want your input!
The PDA and OPDA invite faculty and postdocs to follow a survey 
FACULTY SURVEY - HERE
POSTDOC SURVEY - HERE
A literature review conducted in 2017 found that paid parental leave was associated with improved infant and maternal health outcomes (Heymann et al., 2017). In 2018, the U.S. Bureau of Labor Statistics found that 17% of all civilian workers had access to paid family leave, and 89% had access to unpaid family leave (inclusive of maternity and paternity leave, adoption leave and caring for a sick relative) (Statistics, 2019). Under federal law, postdoc fathers and/or mothers who have worked at FSU for at least 12 months have the right to 12 weeks of unpaid leave in accordance with the Family Medical Leave Act (FMLA). Currently, tenure-track faculty at FSU have access to 16 weeks of paid parental leave. However, there is currently no paid parental leave policy in place for FSU postdocs.  
We are interested in learning more about the thoughts and opinions of faculty members regarding a proposal for paid parental leave for postdocs. Please answer several questions to allow us to better understand the opinions of faculty.  Your answers will help us in formulating a proposal for postdoctoral parental leave tailored to the needs of our institution.  We will share the results of the survey with the Postdoc Advisory Board that governs postdoctoral scholars at FSU.
Please note that this survey is anonymous and you will not be able to be identified.
This survey should take approximately 5 minutes of your time.
Thank you!
Shannon Montgomery, PDA President
References
Heymann, J. et al. (2017) 'Paid parental leave and family wellbeing in the sustainable development era', Public Health Reviews, 38(1), p. 21. doi: 10.1186/s40985-017-0067-2.
Statistics, U. S. B. of L. (2019) Access to paid and unpaid family leave in 2018. Available at: https://www.bls.gov/opub/ted/2019/access-to-paid-and-unpaid-family-leave-in-2018.htm (Accessed: 24 March 2021).
---
Diversity and Inclusion Survey
The PDA and OPDA invite you to follow a survey Posted HERE
Diversity and Inclusion is of utmost importance to the FSU Postdoctoral Association (PDA).  Our survey (5-8 minutes completion time) will help us assess and report on the diversity and inclusion of the postdoc population at FSU.  Only the FSU PDA and Office of Postdoctoral Affairs (OPDA) will have access to the data, which will be secure and anonymous. To protect the privacy of all postdocs, the survey responses will be anonymized and collated with the responses of all other FSU postdocs, so that no individual's responses will be tabulated.
We hope the data will guide us to enhance the diversity and inclusion of FSU postdocs!
title-inside title-centered
2