"Welcome" Mini-Orientation Sessions for New Postdoctoral Scholars on Campus
Honors, Scholars & Fellows House, Room 309, noon (12 pm)
Registration is NOW open for next welcome on Monday, January 30, 2023 - HERE
Are you a new postdoctoral scholar on campus?  Come join us for the next new postdoctoral scholar "Welcome" that is at the end of the month.  The "Welcome" format of orientation serves to give you the basics of the full required orientation program in the spans of an hour over the lunch period.  It is designed for scholars that initiate their training during the year rather than in synchrony with the start of the school year in August.  You can converse with Human Resources representatives about initiating your employee benefits within the 60-day onboarding window, learn about support for global engagements, join the leadership team of our postdoctoral assocation (PDA), and hear about opportunities for fellowships, travel awards, and professional development activities.  
Hope to see you there! - 
Debi, Director of the Office of Postdoctoral Affairs
Agenda:
General PD Opportunities, Expectations, and Professional Development (Fadool)
International Engagements (Lawson)
Program in Instructional Excellence (Kelly)
Human Resources - Health Insurance and Retirement Benefits (McLaughlin)
Join the PDA!! (Pedrete)
---
Special Lecture - Postdoctoral Scholar and Doctoral Trainees Welcome!!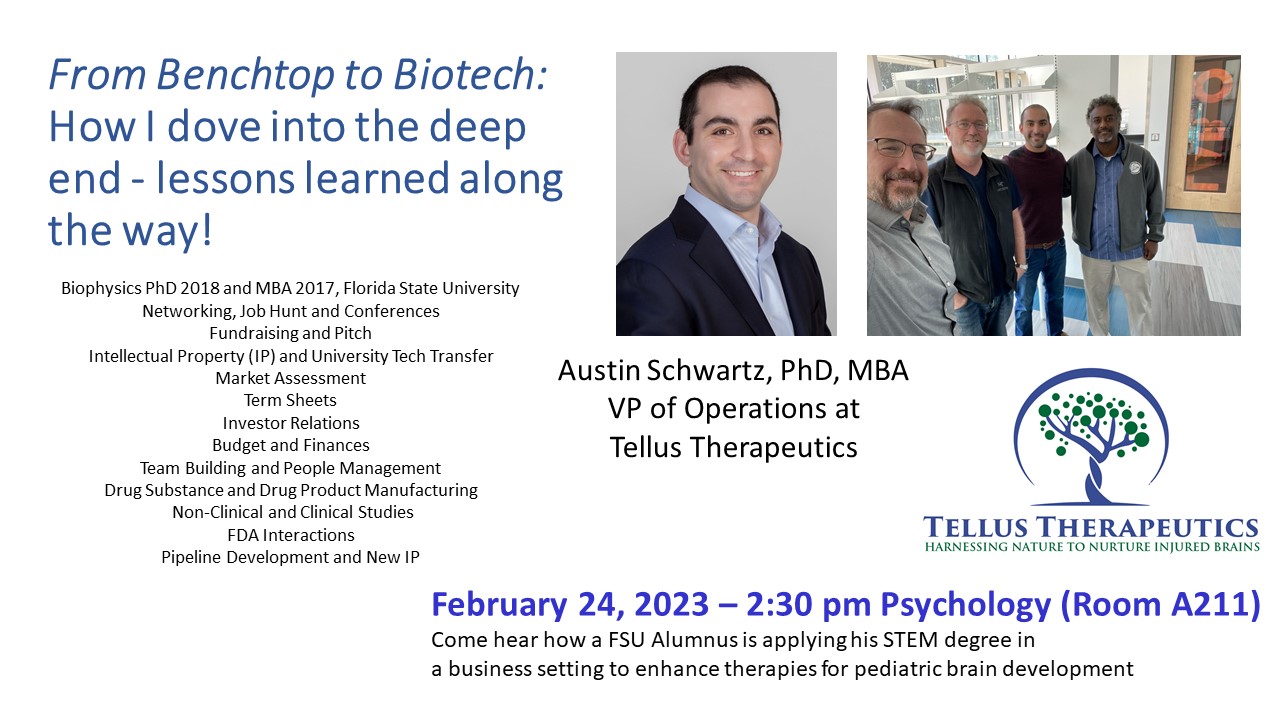 You can read more about Austin's company where he is employed here -
https://www.tellustherapeutics.com/
and his leadership role in the company here -
http://www.tellustherapeutics.com/about/#manage
And the success they have hit most recently in designing therapeutics for neonatal care -
https://www.businesswire.com/news/home/20221213005311/en/Tellus-Therapeutics-Announces-35-Million-Series-A-Financing 
https://endpts.com/chris-garabedians-xontogeny-shepherds-two-more-companies-through-60m-series-a-rounds/
---

Three-Part Grants Workshop
Registration is NOW Open!!!!  You must register by February 15th to be able to attend and participate in the workshop series.
Grants Workshop Flyer - download HERE
The OPDA is partnering with OGFA and the Office of Research to host three interconnected workshops to assist postdoctoral scholars and graduate trainees with the preparation of extramural applications for grants.  Not familiar with how to prepare a competitive fellowship or grant application packet with your mentor to support your independent research?  This workshop is for you!
Scholars and trainees that participate in all three sessions and submit their proposal to an extramural agency are eligible to receive an intramural grant award that is used to support training-related expenses of their research project ($1000 graduate trainees, $1,500 postdoctoral scholars).  These scholarships are generously provided by the Office of Research lead my new VP for Research, Dr. Stacy Patterson.  Trainees must attend all 3 workshop components and submit the extramural application to be eligible.
PART I = Overview of Grant Opportunities by Experienced Faculty that have Served as Reviewers.
February 22 or 23, 2023. 1 - 3:30 pm.   In this session you will learn methods of competitive grantsmanship, the role of the mentor:sponsor training plan, the eligibility criteria for different extramural programs, and you will receive an overview of the required grant components that formulate an application packet.  Different grant programs will be discussed on each day, so you can select the day that upholds your interest and fits your schedule.  Please check back here to see full schedule of speakers in early February.  See flyer for names of agencies that will be covered.  This event will be in person and held in Dodd Hall (Room 103 DHA) on the Wednesday session and in the Nancy Markus Great Hall (Honors Scholars and Fellows, HSF, 4th Floor) on the Thursday session.  Sessions will be recorded and all slide materials will be posted for after viewing.
MEET THE SCHOLARS = Meet Our VP for Research and FSU Fellowship Holders that have Successfully Received a Doctoral or Postdoctoral Grant.                                                                     April 12, 2023.  Time and BuildingTBD.  This is an optional opportunity for you to meet our new VP for Research, Dr. Stacy Patterson, and your fellow FSU colleagues that have successfully navigated the process of preparing and submitting a fellowship or grant application.  They can not only advise you on best practices but can help you with the ins and outs to demystify the complexity of the process!
PART II = Peer Writing Groups to Evaluate Specific Aims.
May 17, 18, or 31. Time TBD via Zoom.  You will work in peer writing groups with a faculty moderator to help craft your Specific Aims page.  Here you will be assigned a grouping based upon your career level and the desired grant mechanism you have selected.  Students and trainees will have access to each others writing prior to the workshop day so you can provide helpful criticism to others in your peer group.  Professional critiques will be shared by your faculty moderator with your research mentor.
 
PART III = Engage in the Review Process.
July 26, August 2, or August 9. Time TBD via Zoom. Applications will be reviewed, critiqued and scored by reviewers in a simulated mock study section.  You will prearrange a 5-member faculty panel that are experts in your research area to serve as grant reviewers of your full application or research plan.  Your research mentor will chair this session and you will record their profession critiques to modify your application internally before you submit it externally to the funding agency.
---
Bio/Neuro Postdoc Workshops
12pm, King 2057+ Zoom; Upcoming Dates Feb 13
Mon. Feb. 13, Dr. Brittany Sexton, Development Scientist at New England Biolabs 'Demystifying the transition between academia and industry' ,(Zoom only)
Dr. Sexton is an FSU PhD alumnae from the Dennis lab. Meeting ID 951 9387 0233 Join URL: https://fsu.zoom.us/j/95193870233
---
Intellectual Property Seminar Series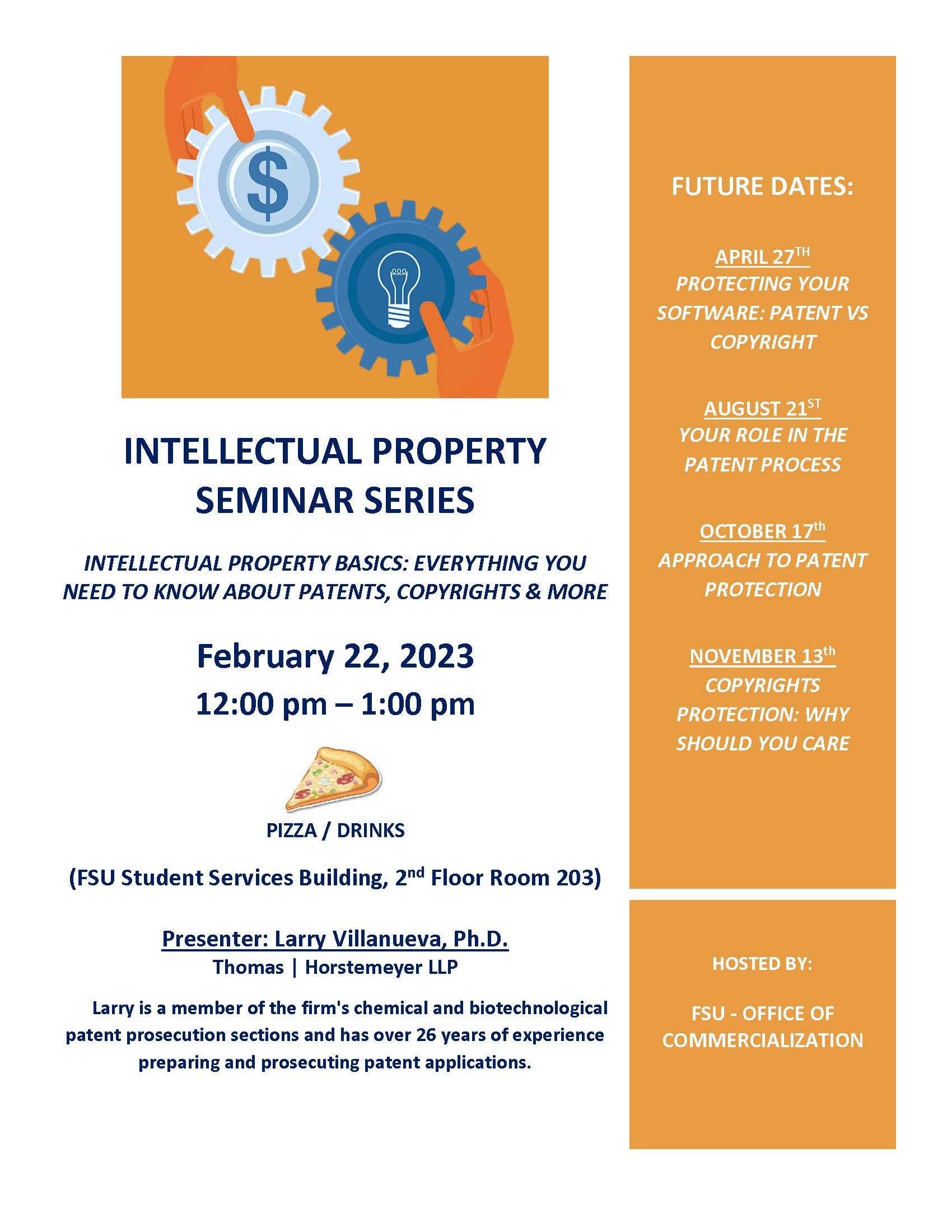 February 22, 2023, 12:00 pm - 1:00 pm
Intellectual Property Basic: Everything you need to know about patents, copyrights & more.
---
Save the Date for the Spring Event - Friday, May 12, 2023
Planning your Career after your postdoc, Part II - academic and non-academic paths
Hybrid and group viewing/participation at the honors, scholars, and Fellows (HSF) building, 1 to 5 pm
followed by reception and dinner
The Office of Postdoctoral Affairs and the Postdoctoral Association (PDA) have joined forces to bring you the Spring Event!   The logistics of the event are currently being planned, but if you would like to assist in the organization - please see Luna or Thais.  As tradition, after the event we will have community engagement with fellow postdocs, advisors, faculty, research mates, and family with a dinner and chance to bring your favorite dessert to share.
More to come!!!  Check back in middle of the Spring.
---
Parental Leave Survey - We want your input!
The PDA and OPDA invite faculty and postdocs to follow a survey 
FACULTY SURVEY - HERE
POSTDOC SURVEY - HERE
A literature review conducted in 2017 found that paid parental leave was associated with improved infant and maternal health outcomes (Heymann et al., 2017). In 2018, the U.S. Bureau of Labor Statistics found that 17% of all civilian workers had access to paid family leave, and 89% had access to unpaid family leave (inclusive of maternity and paternity leave, adoption leave and caring for a sick relative) (Statistics, 2019). Under federal law, postdoc fathers and/or mothers who have worked at FSU for at least 12 months have the right to 12 weeks of unpaid leave in accordance with the Family Medical Leave Act (FMLA). Currently, tenure-track faculty at FSU have access to 16 weeks of paid parental leave. However, there is currently no paid parental leave policy in place for FSU postdocs.  
We are interested in learning more about the thoughts and opinions of faculty members regarding a proposal for paid parental leave for postdocs. Please answer several questions to allow us to better understand the opinions of faculty.  Your answers will help us in formulating a proposal for postdoctoral parental leave tailored to the needs of our institution.  We will share the results of the survey with the Postdoc Advisory Board that governs postdoctoral scholars at FSU.
Please note that this survey is anonymous and you will not be able to be identified.
This survey should take approximately 5 minutes of your time.
Thank you!
Shannon Montgomery, PDA President
References
Heymann, J. et al. (2017) 'Paid parental leave and family wellbeing in the sustainable development era', Public Health Reviews, 38(1), p. 21. doi: 10.1186/s40985-017-0067-2.
Statistics, U. S. B. of L. (2019) Access to paid and unpaid family leave in 2018. Available at: https://www.bls.gov/opub/ted/2019/access-to-paid-and-unpaid-family-leave-in-2018.htm (Accessed: 24 March 2021).
---
Diversity and Inclusion Survey
The PDA and OPDA invite you to follow a survey Posted HERE
Diversity and Inclusion is of utmost importance to the FSU Postdoctoral Association (PDA).  Our survey (5-8 minutes completion time) will help us assess and report on the diversity and inclusion of the postdoc population at FSU.  Only the FSU PDA and Office of Postdoctoral Affairs (OPDA) will have access to the data, which will be secure and anonymous. To protect the privacy of all postdocs, the survey responses will be anonymized and collated with the responses of all other FSU postdocs, so that no individual's responses will be tabulated.
We hope the data will guide us to enhance the diversity and inclusion of FSU postdocs!
title-inside title-centered
2