---
Parental Leave Survey - We want your input!
The PDA and OPDA invite faculty and postdocs to follow a survey 
FACULTY SURVEY - HERE
POSTDOC SURVEY - HERE
A literature review conducted in 2017 found that paid parental leave was associated with improved infant and maternal health outcomes (Heymann et al., 2017). In 2018, the U.S. Bureau of Labor Statistics found that 17% of all civilian workers had access to paid family leave, and 89% had access to unpaid family leave (inclusive of maternity and paternity leave, adoption leave and caring for a sick relative) (Statistics, 2019). Under federal law, postdoc fathers and/or mothers who have worked at FSU for at least 12 months have the right to 12 weeks of unpaid leave in accordance with the Family Medical Leave Act (FMLA). Currently, tenure-track faculty at FSU have access to 16 weeks of paid parental leave. However, there is currently no paid parental leave policy in place for FSU postdocs.  
We are interested in learning more about the thoughts and opinions of faculty members regarding a proposal for paid parental leave for postdocs. Please answer several questions to allow us to better understand the opinions of faculty.  Your answers will help us in formulating a proposal for postdoctoral parental leave tailored to the needs of our institution.  We will share the results of the survey with the Postdoc Advisory Board that governs postdoctoral scholars at FSU.
Please note that this survey is anonymous and you will not be able to be identified.
This survey should take approximately 5 minutes of your time.
Thank you!
Shannon Montgomery, PDA President
References
Heymann, J. et al. (2017) 'Paid parental leave and family wellbeing in the sustainable development era', Public Health Reviews, 38(1), p. 21. doi: 10.1186/s40985-017-0067-2.
Statistics, U. S. B. of L. (2019) Access to paid and unpaid family leave in 2018. Available at: https://www.bls.gov/opub/ted/2019/access-to-paid-and-unpaid-family-leave-in-2018.htm (Accessed: 24 March 2021).
---
Travel Awards NOW Fully Reopening! 
July 11, 2021 - Deadline for next Evaluation Period
Due to the prevention of university-sponsored travel caused by the pandemic, we were forced to suspend the Professional Development Travel Award program last year.  The Postdoctoral Advisory Board and the Postdoctoral Association made the request to reopen the program for sponsorship of virtual conference registration and other types of professional career advancements for our postdoctoral scholars.  Therefore, we partially reopened the application portal for Travel Grants (Virtual) on Feb 22 for professional development activities occurring in the window of March 1 to July 1. 
At this time we would like to open the Professional Development Travel Award program fully for both virtual conference registrations or in person conferences.  If you have a professional development opportunity that will occur between 1 August 2021 and 31 December 2021, the deadline for submitting your travel grant application is July 11, 2021.  The OPDA and the Provost Office will sponsor 10 awards up to $1,000 for the calendar year.
Please see the travel awards section of the website for application details and submission portal.  Be sure to confirm travel restrictions and regulations for your select opportunity prior to completing your application, since countries have changing health-related guidelines that may affect your planned travel.
---
Taking Registrations for Preliminary Rounds in the 5 Minute Research (5MR) Competition! 
July 21 (1 to 3 pm), July 28 (1-3 pm), August 4 (3 -5 PM), August 11 (3-5 pm), or September 1 (3-5 pm)
We are excited to announce that we will be conducting practice rounds for the fourth annual 5MR competition this summer!  Even better good news is that we would like to host the competition live this year rather than virtual.  The finals will be held on September 24, 2021, in the late afternoon, and we plan follow the competition with an outdoor reception to recognize our winners and celebrate all the research efforts of our superb postdocs during the National Postdoctoral Appreciation Week (#NPAW21).
To REGISTER for one of the required practice sessions to compete in the fourth annual 5MR competition - please see HERE
Deadline to preregister for a practice slot is July 15.  
Remember there is ONLY one rule in the competition - You must communicate your research project in non-technical language using any means you desire but ONLY with a duration of not more than 5 MINUTES!!!
1st Place Award - $1000
2nd Place Award - $750
People's Choice Award - $500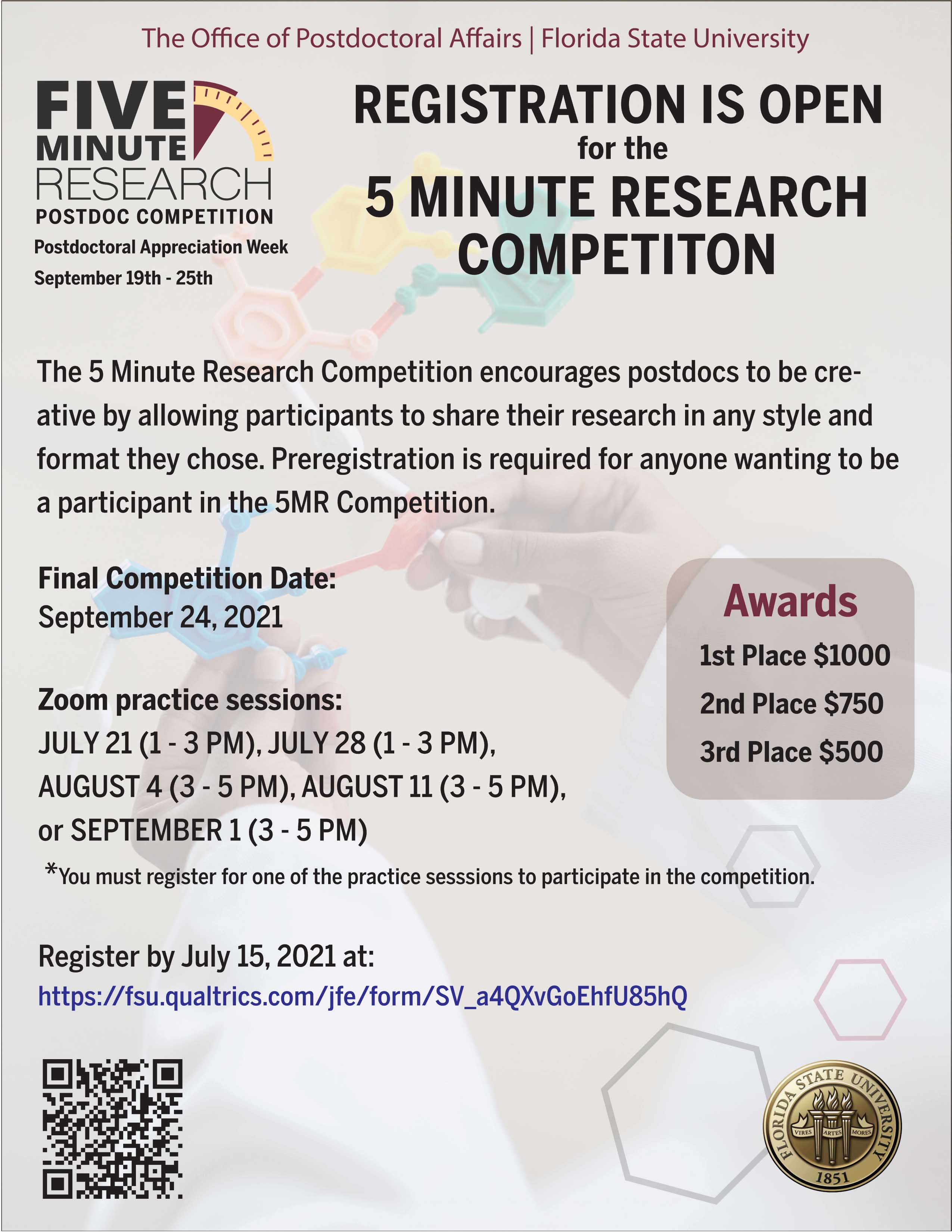 ---
New Postdoctoral Full Orientation
Next Full Orientation = August 13, 2021 - by Zoom Conference
REGISTRATION NOW OPEN:  Click HERE 
10 to 11:30 am (Session 1) = General Orientation (Expectations, Policies, Resources, Teaching, Center Global Engagement, Human Resources/Benefits, Postdoctoral Association, Professional Development, Awards)
1 to 2:30 pm (Session 2) =  Postdoc/Advisor Pair (Formulation of Individual Development Plan, Mentorship)
All postdocs that have been on campus for less than one year are required to attend the New Postdoctoral Orientation.  We will be conducting the orientation by zoom conference using two sessions with a noontime break.  The morning session will cover postdoctoral expectations, policies, funding and professional development opportunities, benefits/retirement, and meeting your Postdoctoral Association.  You will have the opportunity to meet other postdoctoral leaders on campus and learn the types of research resources available to you.  In the afternoon session, postdoctoral scholars will get to work with their mentors in formulating their Individual Development Plan.   To see more information about orientation, download a flyer, or the check agenda, please see here.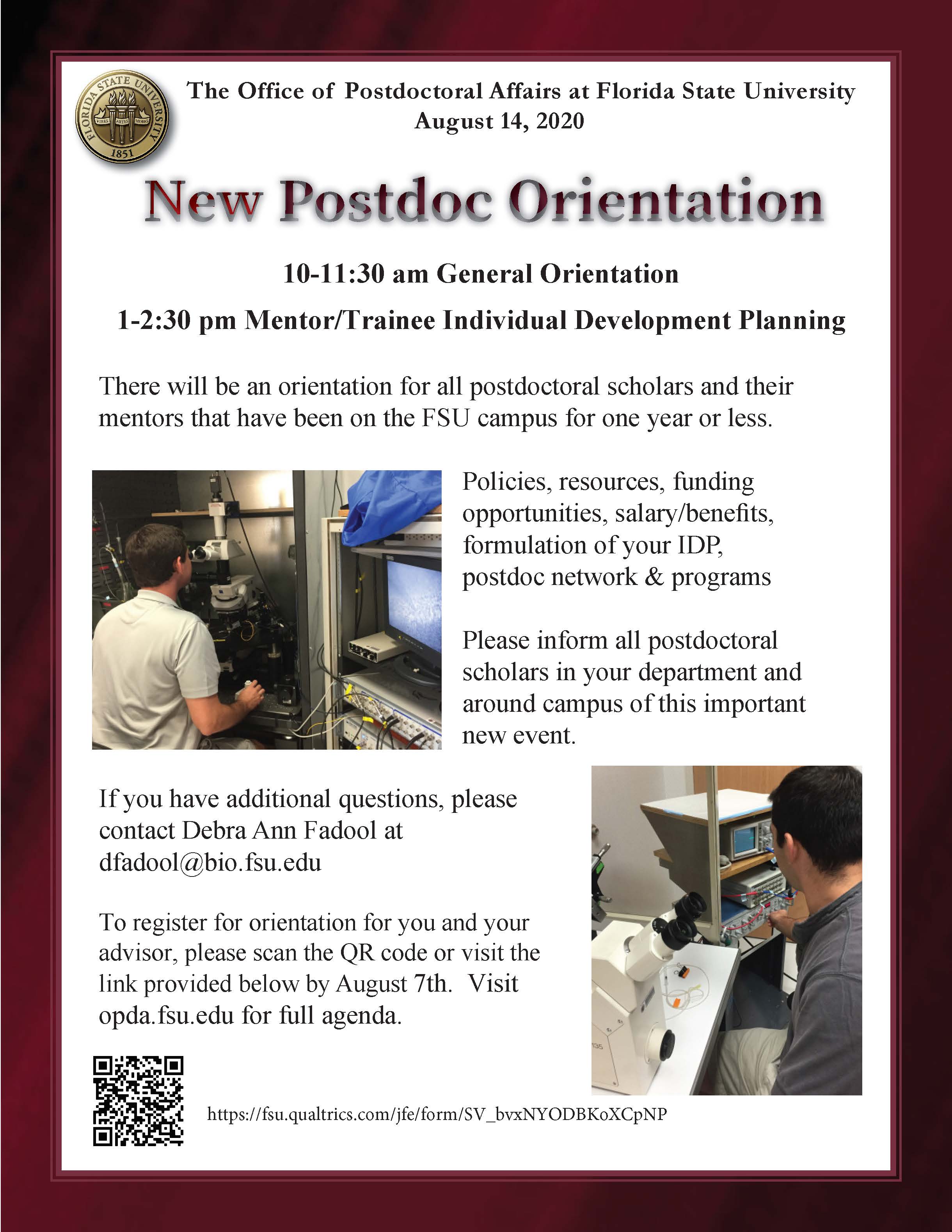 Copies of the textbook "Making the Right Moves", a helpful text on your career advancement developed by HHMI and the National Academy, along with other professional development resources will be distributed  to you on memory jump drives.  The following information will be provided to you by directors and coordinators of these topics -
Expectations, Policies, Resources, Research Opportunities Animal and Human Subjects
Individual Development Plan
Funding your Research
Teaching Opportunities and Guidelines
Interfacing with Professional Development at the Office of Postdoctoral Affairs and the Graduate School
Canvas and Omni Software Introduction (Payroll, Reimbursements)
Human Resources (Minimum Salary, Health Insurance, Leave Policy, Retirement, Florida Prepaid College)
Data Management Plans
Career Center
Postdoctoral Association (Events, Professional Development, and Networking)
International Scholar VISA and Global Community
Center for Intensive English Studies
---

Three-part Grants Workshop 
The OPDA has partnered with OGFA and the Office of Research to host three interconnected workshops to assist postdoctoral scholars and graduate trainees with the preparation of extramural applications for grants.  Scholars and trainees that participate in all three sessions and submit their proposal to an extramural agency will be eligible to receive an intramural grant award to apply for training-related expenses of their research project ($750 graduate trainees, $1,000 postdoctoral scholars).  These funds were graciously contributed by the VP for Research Office.
PART I = Overview of Grant Opportunities by Experienced Faculty.
PART II = Peer Writing Groups to Evaluate Specific Aims.
PART III = Sept., 29 or Oct. 6, 2021;  12 - 3 pm = Mock Study Section Review. 
Sign up for a time block to have your full grant proposal critiqued by a mock study section of experts in your field. Then take your reviews, modify your full proposal and submit to your targeted agency to receive your intramural award from FSU. You do not have to be awarded your proposed grant to received the intramural support, but you must complete all three workshop dates and be responsive to the available experts!
---
Program for Instructional Excellence (PIE) Conference
August 18 and 19, 2021 - by Zoom Conference
Are you a Teaching Postdoctoral Scholar or have a portfolio that requires instruction?  All Postdoctoral trainees with instructor of record (IOR) duties are required to enroll once in the PIE conference that is held twice annually prior to serving as an IOR in the classroom or course laboratory section.  Registration for the conference as well as workshops and helpful instructional guidance can be found at the PIE website HERE.
---
Diversity and Inclusion Survey
The PDA and OPDA invite you to follow a survey Posted HERE
Diversity and Inclusion is of utmost importance to the FSU Postdoctoral Association (PDA).  Our survey (5-8 minutes completion time) will help us assess and report on the diversity and inclusion of the postdoc population at FSU.  Only the FSU PDA and Office of Postdoctoral Affairs (OPDA) will have access to the data, which will be secure and anonymous. To protect the privacy of all postdocs, the survey responses will be anonymized and collated with the responses of all other FSU postdocs, so that no individual's responses will be tabulated.
We hope the data will guide us to enhance the diversity and inclusion of FSU postdocs!
---
title-inside title-centered
2