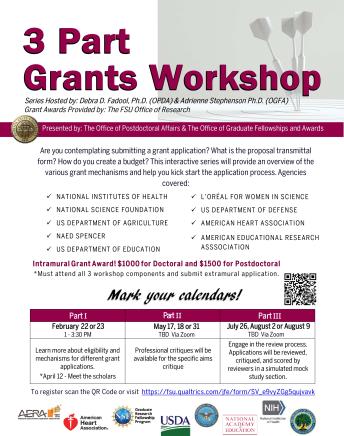 Three-Part Grants Workshop
Update for Registered Participants (May 15):  Part II is now in full swing.  All registrants have access to the One Drives of members of their assigned peer writing group and should be reading the critiques of their fellow group members provided by their respective 5-faculty member review panel.  Faculty moderated zoom groups are established for the discussion of your Specific Aims as follows -
May 17: 
From 1 to 2:30 pm - Working within your own peer writing group on Specific Aim Critiques with your assigned faculty moderator
Roberto Vincis Group A (F32/F31) = JOIN ZOOM HERE
Emily DuVal Group B (USDA, F32, Fulbright) = JOIN ZOOM HERE
Samantha Nix Group C (Education) = JOIN ZOOM HERE
From 2:30 - 3:00 pm - Join a group Zoom group to hear from FSU scholars that have been awarded the grant/fellowship you are seeking - JOIN ZOOM HERE
Meet our FSU Scholars and Alumni that will give you support for your grant writing endeavor = Ashley Loeven, Benton Jaco, Aaron Rodriguez, Caityln Edwards, Eithan Cissell, Annais Bonilla-Johnson
May 31:  
From 1 to 2:30 pm - Working within your own peer writing group on Specific Aim Critiques with your assigned faculty moderator
Bryant Chase Group A (AHA) = JOIN ZOOM HERE
Lisa Lyons Group B (F31/F32) = JOIN ZOOM HERE
Lisa Eckel (K99 R00) = JOIN ZOOM HERE
Vince Salter Group D (NSF) = JOIN ZOOM HERE
Hank Bass Group E (R03/R21) = Zoom ID = JOIN ZOOM HERE
From 2:30 - 3:00 pm - Join a group Zoom group to hear from FSU scholars that have been awarded the grant/fellowship you are seeking - JOIN ZOOM HERE
Meet our FSU Scholars and Alumni that will give you support for your grant writing endeavor = Ashley Loeven and Louis Kolling
Grants Workshop Slide Files HERE
Grants Workshop Flyer - download HERE
Grants Workshop Tools for Preparing Competitive Specific Aims - (Is provided to you on our Canvas page for all registrants - please inquire if you want to be added).
Remember your Full Grant/Fellowship Proposal is due no later than July 1.  All registrants will be given reminders to upload to their One Drives before this deadline, but should also provide reminders to their 5-member faculty review committee.  You will receive communication regarding your Part III Mock Study Review Session to be conducted on August 2nd or August 9th.  
The OPDA is partnering with OGFA and the Office of Research to host three interconnected workshops to assist postdoctoral scholars and graduate trainees with the preparation of extramural applications for grants.  Not familiar with how to prepare a competitive fellowship or grant application packet with your mentor to support your independent research?  This workshop is for you!
Scholars and trainees that participate in all three sessions and submit their proposal to an extramural agency are eligible to receive an intramural grant award that is used to support training-related expenses of their research project ($1000 graduate trainees, $1,500 postdoctoral scholars).  These scholarships are generously provided by the Office of Research lead my new VP for Research, Dr. Stacy Patterson.  Trainees must attend all 3 workshop components and submit the extramural application to be eligible.
PART I = Overview of Grant Opportunities by Experienced Faculty that have Served as Reviewers.
February 22 or 23, 2023. 1 - 3:30 pm.   In this session you will learn methods of competitive grantsmanship, the role of the mentor:sponsor training plan, the eligibility criteria for different extramural programs, and you will receive an overview of the required grant components that formulate an application packet.  Different grant programs will be discussed on each day, so you can select the day that upholds your interest and fits your schedule.  Please check back here to see full schedule of speakers in early February.  See flyer for names of agencies that will be covered.  This event will be in person and held in Dodd Hall (Room 103 DHA) on the Wednesday session and in the Nancy Markus Great Hall (Honors Scholars and Fellows, HSF, 4th Floor) on the Thursday session.  Sessions will be recorded and all slide materials will be posted for after viewing.
MEET THE SCHOLARS = Meet Our VP for Research and FSU Fellowship Holders that have Successfully Received a Doctoral or Postdoctoral Grant.                                                                     April 12, 2023.  Time and BuildingTBD.  This is an optional opportunity for you to meet our new VP for Research, Dr. Stacy Patterson, and your fellow FSU colleagues that have successfully navigated the process of preparing and submitting a fellowship or grant application.  They can not only advise you on best practices but can help you with the ins and outs to demystify the complexity of the process!
PART II = Peer Writing Groups to Evaluate Specific Aims.
May 17, 18, or 31. Time TBD via Zoom.  You will work in peer writing groups with a faculty moderator to help craft your Specific Aims page.  Here you will be assigned a grouping based upon your career level and the desired grant mechanism you have selected.  Students and trainees will have access to each others writing prior to the workshop day so you can provide helpful criticism to others in your peer group.  Professional critiques will be shared by your faculty moderator with your research mentor.
 
PART III = Engage in the Review Process.
July 26, August 2, or August 9. Time TBD via Zoom. Applications will be reviewed, critiqued and scored by reviewers in a simulated mock study section.  You will prearrange a 5-member faculty panel that are experts in your research area to serve as grant reviewers of your full application or research plan.  Your research mentor will chair this session and you will record their profession critiques to modify your application internally before you submit it externally to the funding agency.
---
2023 Spring Event(s!)
Friday, May 12 and Saturday, May 13!!  Registration closes on May 10.  Field trip registration closes with cap of 36 participants is reached.
TWO Events on Friday, May 12, 2023 - REGISTER HERE FOR EITHER EVENT
ONE Event on Saturday, May 13, 2023 - REGISTER HERE FOR MARINE LABORATORY Field Trip EVENT
Friday Morning 
9 am - Breakfast Continental, Find your table separated by field, Nancy Marcus Great Hall, Honors Scholars and Fellows (HSF) Building
9:25 am - Opening Welcome, Debra Fadool, Director of the Office of Postdoctoral Affairs
9:30 am - "Academic vs. Industry CV:  Best Practices for Each.  How to Translate Your Academic Experiences into a Resume for the Private Sector/Industry Employers" - Jamie Butler
10:15 am - Q & A for Jamie Butler
10:30 - 11:45 am - Postdoctoral Scholars construct 1-page resume with Jaime Butler and Abbey Hale, FSU Career Center
If you would like to participate in the career morning workshop, please bring your personal laptop and charger, as well as your academic CV as a launching point.  You do not have to participate in the career workshop to join the lunch - they are two independent events.  
Friday Lunchtime
12:00 pm - 1:30 pm - Postdoctoral Scholar and Mentor Lunch, Nancy Marcus Great Hall, Honors Scholars and Fellows (HSF) Building
12:25 pm - "Recognizing Warning Signs and How to Prevent Burnout!" - Julia Storace.  Co-worker, Brittany Benton, who is a Licensed Clinical Social Worker and also the FSU Noles C.A.R.E Coordinator, will join Julia for an engaging lunchtime lecture.
We invite you and your faculty advisor to a nice sit down lunch in the Nancy Marcus Great Hall (4th floor of the Honors, Scholars, and Fellows Building).  We hope this will serve as nice protected time for you to let us serve you - especially after a very busy Spring Semester.  If your advisor is traveling or cannot attend, feel free to invite a special guest to join you - we all know that there is more than one mentor for every successful postdoc training experience and we want to recognize the strength of this academic partnership. 
Saturday Fieldtrip
8:15 am - Departure to FSU Coastal and Marine Laboratory (1.5 h transit)
10:00 am - Start time in St. Teresa, FL
Postdoctoral scholars and their significants/family (must be 16) are invited to travel to the FSU Marine Laboratory in St. Teresa (3618 US-98 St. Teresa, FL 32358) for a day of fun and engagement.  The morning will consist of a short instructional talks by FSU Marine Laboratory Director, Joel Trexler, and then a tour of the facility and research station.  In the afternoon, there will be two groups - one traveling for an excursion in the Marsh while the other goes out on the research boats for a tour on the gulf - then the groups will switch activites.  Registrants will bring their own picnic lunch to eat by the ocean.  For this engagement we are limited to 36 total participants - so register early - and kindly inform Luna Hiron if your plans change so that another scholar can be accomodated.  All registrants for the field trip will receive a separate communication that will outline carpooling from the FSU Spirit Parking Garage off Stadium Drive and what to bring for getting wet in the marsh and what to wear for the boat ride in the gulf.  FSU will not be providing transportation - but scholars will carpool with others - see Luna Hiron if you can take a colleague or if you need a ride.
Bibliography of our Spring Event Speakers
Jaime Butler is a career services professional who works at the FSU Career Center as an Assistant Director of Employer Relations and Career Liaison to the College of Arts and Sciences (Science, Technology, and Mathematics majors). She is proud to be a double 'Nole, attending undergrad at FSU and graduating with her MSW/MPA degrees last year. Jamie works to connect students with Career Center resources and support them wherever they are in their career journey. She is passionate about helping graduate students and postdocs communicate the value of their academic skills and experiences outside of the academia bubble.
Julia Storace graduated with her Masters in Counseling from Saint Joseph College, now the University of Saint Joseph, in West Hartford, Connecticut, in 2008 and has been a licensed clinician since 2010. She has worked in a variety of settings with a variety of populations –  with youth and adults in a free-standing psychiatric hospital, community mental health, detox and rehab center, Medicaid care management and now in university center counseling with college students of all ages and backgrounds. Exposure to people from all walks of life suffering with a variety of presenting concerns has been the best education she could have asked for - she has stated that it prepared her to conceptualizeher clients' needs from a holistic perspective that honors the full complexity of a person's experience. Julia particularly enjoys working with International students, being a first generation immigrant herself.  She prefers solution-focused interventions and skill-building from Cognitive Behavioral Therapy and Dialectical Behavior Therapy to empower students to grow mastery in the areas of emotion regulation, relationships and self-awareness.