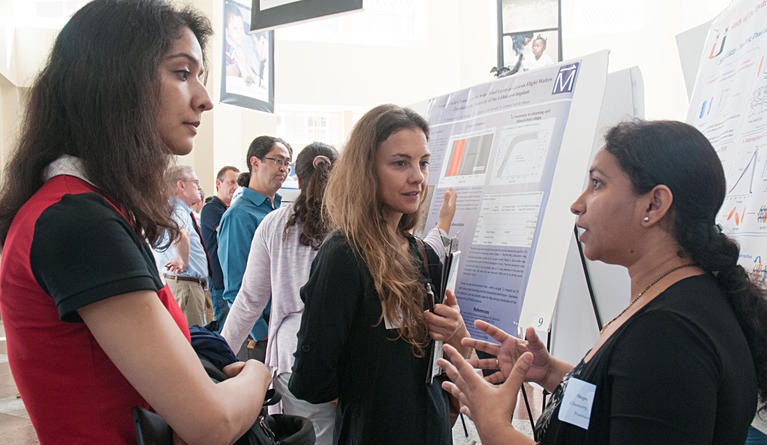 ---
Seventh Annual Postdoctoral Symposium and Poster Competition
On Friday, September 20, 2019, the Office of Postdoctoral Affairs & the FSU Postdoctoral Association hosted the seventh annual Postdoctoral Symposium, Poster Competition, and Five Minute Research (5MR) in conjunction with the National Postdoctoral Appreciation week. Congratulations to this years winners and for their hard work. 5MR competition winners: First place: Shirin Mozaffari, second place: Yana Bebieva, tied for third place: Katy Sparrow & Derrick Vaughn, and People's Choice: Katy Sparrow. The 2019 Poster Winners are: Interdisciplinary: La Tasha Holden, Life Science: Max Bangs, and Physical Science: Trina Merrick. Click here for complete information.
---
Fourth Annual Postdoctoral Symposium and Poster Competition 
In recognition of National Postdoc Appreciation Week, Florida State University will host the fourth annual Postdoctoral Symposium on Friday, September 23rd in the FSU College of Medicine Atrium and Auditorium.  The topic of the keynote address from Dr. Michael Blaber, Florida State University, College of Medicine is "Being Your Own Boss".  Best poster presenter ($100 award) will be selected from the following 5 categories:  Life Science, Physical Science, Interdisciplinary/Humanities, Entrepreneurship, and a People's Choice Award.
'Click here'   for the Symposium Agenda, Flyer, and Registration (Attendees and also to upload an abstract)
'Click here'   for a Helpful Guide to Writing a Conference Abstract
Good Luck to all of our 2016 poster presenters and thank you to our volunteer judges/organizers!
---
2015 Poster Presentation Winners:
Humanities/Interdisciplinary: Rebecca Brower, A Policy Implementation Typology of Florida's Developmental Education Reform
Physical Science: Paula Giraldo-Gallo, Fermiology of Hold-doped PbTe: Insights to Understand Superconductivity in a Valence Disproportionated System
Life Science: Ambalika Sarkar, Antidepressant Effect of Ketamine in Male and Female Rats
---
2015 Travel Award Recipients:
The Office of Postdoctoral Affairs administers a minimum of 10 travel awards each year with applications accepted in July and January.  For more information, please visit http://opda.fsu.edu/Awards-and-Fellowships/Awards/Travel-Awards
The travel award recipients at the 2015 Postdoctoral Symposium were -
Dr. Elizabeth Ellwood, traveling to the Bioinformation Diversity Standards, Nairobi Kenya
Dr. Ekaterina Maksimova, traveling to the American Geophysical Union, San Francisco USA
Dr. Abalika Sarkar, traveling to the Society for Neuroscience, Chicago USA
Congratulations to these travel awardees and much success in the dissemination of your research and networking.