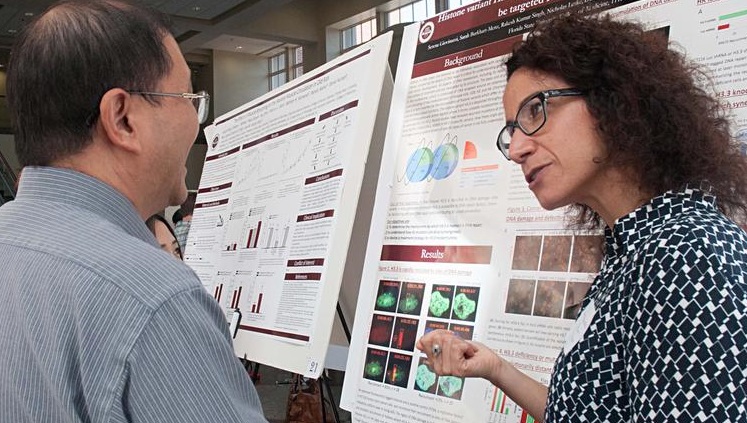 ---
Three-part Grants Workshop for Postdoctoral Scholars (Feb 16th, March 31st, July 15th, 2016)
"The Ins and Outs"
For registration (look here in early January of 2017 for the next 3-part workshop dates!)
Funding Mechanisms:
American Heart Association (AHA)
Department of Defense(DOD)
Loreal Women in Science
National Endowment for the Humanities (NEH)
National Institutes of Health (NIH)
National Institutes of Justice (NIJ)
National Science Foundation (NSF)
United States Department of Agriculture (USDA)
The Office of Postdoctoral Affairs and the Office of Graduate Fellowships and Awards are teaming together to sponsor a three-part grants workshop during which both postdoctoral scholars and doctoral students will have the opportunity to be provided 1) an overview of potential mechanisms that would be suitable for their type of research, 2) have an opportunity to get their specific aims critiqued and have guidance through all the form pages and supplemental material, and 3) participate in a mock study section by experts in their field and ability to discuss the strengths and pitfalls with FSU doctoral and postdoctoral scholars that have successfully acquired that mechanism. The mock study section will identify top proposals and those individuals will be supported by an intramural award administered by FSU following submission of their proposal to a federal agency or private foundation. Postdoctoral submissions will be judged by the mock study section to receive up to $1500 of support. Participants must complete all three workshops to be eligible for the intramural award.
---
Feb 16 (2 to 4 pm) - WORKSHOP #1 - 2 to 4:30 pm; Great Hall, 4th Floor, HSF
During this session, faculty that have served as expert reviewers and grant writers for the following agencies or foundations will provide an overview of the eligibility criteria and current requests for applications that are specifically tailored for postdoctoral scholars or those transitioning to a junior faculty member. Opportunities available at AHA, Loreal, NIH, NSF, USDA, DOD, NEH, and NIJ will be highlighted in 10 minute overview presentations. Following the eligibility overviews, there will be two breakout sessions of 30 minutes each so that scholars can have small group discussions with the experts to entertain follow-up questions.
---
March 18 - Submission of a 1 page specific aims
Postdoctoral scholars that want to apply to a particular mechanism will submit a 1 page Specific Aims to be evaluated by scientific writers in their broad field.
---
March 31 (NIH, NEH, Loreal, USDA) - WORKSHOP #2 or
April 7 (AHA, NSF, NIJ, DOD) - WORKSHOP #2
Both held - HSF Room 3008, Time - 1 to 3 pm
Postdoctoral scholars will attend the date of the workshop #2 that corresponds to the particular mechanism for which they have chosen to apply and have submitted their specific aims for review. Participants will learn the strengths and weaknesses of their crafted aims in both an individualized and group scientific writing session. At this workshop, participants will get assistance in navigating all the form pages and supplemental pages along with the importance and evaluation of these pages. Previous FSU postdocs that have successfully been awarded these mechanisms will be on hand for consultation and advice.
---
May 5 - Submission of the names of 5 potential reviewers for a postdoctoral scholars application by their current advisor.
---
June 24 - Proposal is submitted to 2 reviewers per application.
---
July 15 (NIH, NEH, Loreal, USDA) - WORKSHOP #3 or
July 22 (AHA, NSF, NIJ, DOD)
Both held - HSF Room 3009, Time - TBD
Postdoctoral scholars will have their proposal orally reviewed in the format of a mock study section. Written critiques will be provided to both the scholar and the advisor/sponsor of the application.
Over the course of the next 8 months, through April, 2017, those participants that completed all three workshops AND submitted a proposal to an extramural agency would be judged for intramural award of up to $1500 provided from the OPDA. A postdoctoral scholar does not need to be successful in funding the proposal extramurally to be eligible for the award from FSU, only successful in completing their submission with their advisor/sponsor to the extramural agency following a competitive mock study section evaluation. The intramural award can be used to see further preliminary data to support the ideas of the project or address experimental critiques of the FSU or external reviewers. It is the intension of the intramural support to provide a resource to increase the likelihood of success of the extramural award in terms of progress or addressing reviewer concerns for resubmission of a grant.
Questions can be targeted to Debra Ann Fadool, Director of the Office of Postdoctoral Affairs.