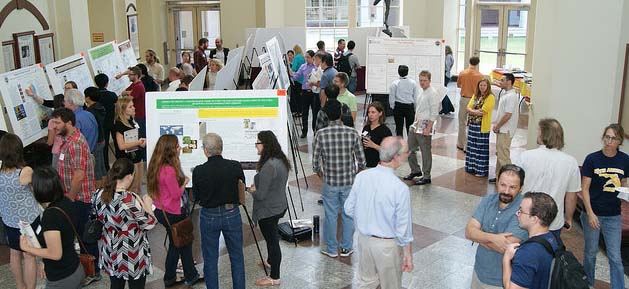 ---
The keynote address was presented by, Dr. Timothy McClintock, Department of Physiology, University of Kentucky. Dr. McClintock spoke to attendees about "Creating Opportunities for Others is the Essence of Leadership and Management".  There was a special networking workshop by our own Thierry Dubroca - Use LinkedIN to get that job interview and make connections!  Enjoy the new photos!
---
The keynote address was presented by, Dr. Lori Conlan, Director of postdoctoral Affairs at the National Institutes of Health (NIH). Dr. Conlan spoke to attendees about "Job Search - strategies to find a career". There was also panel discussions provided by 3 industrial scientists/research specialists & 3 assistant professors. Afterwards, all enjoyed a potluck dinner with time to socialize  and network.
---
The fourth annual Postdoc Symposium and Poster Competition centered on the theme "How to be your own boss:  Establishing a startup and research lab".  
---
2016 FSU Postdoctoral Association (PDA) Spring Event
This year's spring event was "Managing Data and People"!  Postdocs had the opportunity to participate in workshop activities that explored mentoring in a shifting environment, diversity in the workplace, and good stewardship of data management.  An international potluck was enjoyed by scholars, friends, and family.
---
2015 FSU Postdoc Holiday Party
FSU postdoctoral scholars from across campus gathered for a Holiday Party on December 5th from 6 to 10 pm in the Dittmer Chemistry Lounge. It was a potluck event and postdocs brought their friends and family - all were welcome!
---
"Career Paths Beyond Academia"
Postdocs had the opportunity to explore career paths in several domains outside the traditional university setting.
---
The third annual Postdoc Symposium gave postdoctoral scholars the chance to discuss their research with faculty members and colleagues.
---
The second annual Postdoc Symposium supported and promoted our postdoctoral scholars and their remarkable research.
---
This was an excellent opportunity for postdocs to share their work with colleagues outside of their department and for FSU to celebrate and show appreciation for postdoc's contributions to our success. There were 3 poster prizes and the event concluded with a wine and cheese reception compliments of the Graduate School and the President's Office.
---
PDA and Postdoctoral office representatives met with Postdoctoral Fellows in a Town Hall setting.
---
Postdoctoral fellows and their families gathered at Tom Brown Park for an afternoon of fun.